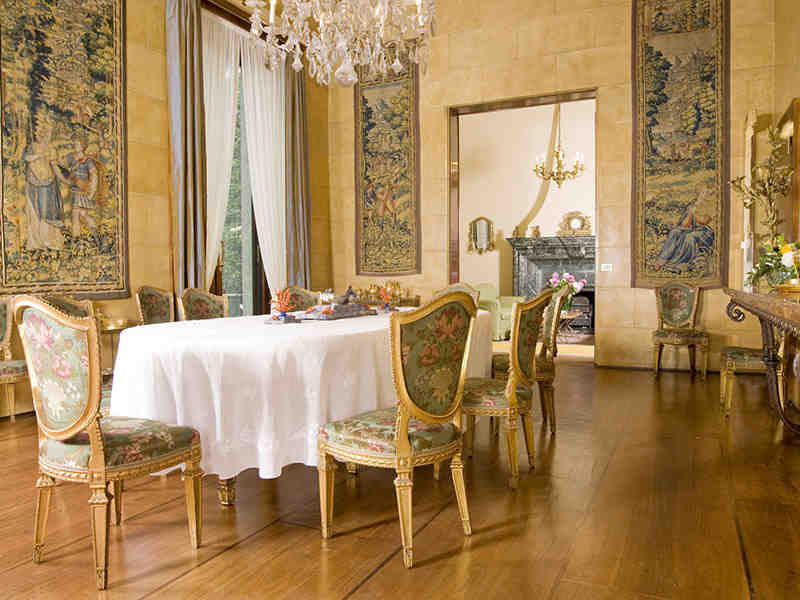 LA CENA D'ORO - OUR VILLA NECCHI INSPIRED DINNER W/ HAVILAND CHINA, CHRISTOFLE FLATWARE, PRATESI & THOMAS FUCHS GLASSWARE
Villa Necchi Dinner Place Card Menu
Welcome to our ONLINE STORE  and blog. 
As a barware, lighting and home accessories design company, at Thomas Fuchs Creative we specialize in handmade goods. Every week we give you a behind the scenes look at the people, places and things that inspire us.
This week we take you to Villa Necchi Campiglio. While we were just in Milan, during Salone del Mobile, we finally got to visit The Villa Necchi which I was obsessed with ever since seeing it in Luca Guadagnino's film"Io Sono Amore". 
Poppy Flower Bed in Garden
In my past blogs, I feel like the best way to reference design and travel is by incorporating small elements in to your every day life.
Being that we are constantly entertaining we have ample opportunities to show off our purchases or influences be it via exotic salts or spices to finding artifacts in our home and repurposing them in design bringing forward the history while mixing and matching it giving it a twist and stories to tell family and friends.
 Gold Cups & Earns in the Villa's Dining Room
Golden Earns in Villa Necchi Dining Room
We had met Kreoo Design's Gabrielle, Alessandra and Sandro at Salone del Mobile. When dots were connected having shown them Thomas' designs in marble they sensed our appreciation of their aesthetic and craftsmanship.
Ann Feldstein who manages their PR stateside was quick to relay all necessary points and voila connections were made! We immediately extended an invitation to our home for dinner when they come to Miami.
So it seemed to apropos that I used all my photos from our visit to Villa Necchi to serve as inspiration for our dining table decor for our Italian guests.
Chinese Earns at Villa Necchi
Immersed in an ample private garden with a swimming pool and a tennis court and set in the center of Milan, the Necchi Campiglio Villa was completed by the architect Piero Portaluppi in 1935.
Commissioning the structure was the Necchi Campiglio family, part of the rich and elegant industrial middle class of Milan in the 1930s set in a garden of orange and yellow poppy flowers (pictured above) served as the colour palette for the flowers I arranged for our table.  
My Grandparents Golden Goblets & Christofle Flatware
The golden earns and goblets seen in the Villas's dining room led me to reimagine creating a table scape with my Grandparents gold goblets that I had carefully put away thinking I would never use them.
In true Italian mix & match style, I took the Donghia Espadrille textile Thomas had designed creating an overlay of a hand-embroidered Pratesi tablecloth my mother had custom made to match her 12 piece Haviland Limoges which was part of her wedding Trousseau, a custom that is only kept up in far and middle eastern countries these days.  
Name Card Holders
Architect Piero Portaluppi designed the house and garden for sisters Nedda and Gigina Necchi, heirs to a successful cast-iron-manufacturing business in Pavia, and Gigina's husband, Angelo Campiglio.
The style contrast is felt in the quintessential classic formal salon decked in 17th-century lure — certainly a more expected receiving room during the time the Necchis and Campiglios inhabited the home. The opposing elements of modernity and classicism are still widely discussed today. The intrigue of these divided eras residing under one famed roof is a large part of the fascination that endures for this celebrated Italian villa. 
Mom's Custom  Pratesi Organze Table Cloth
The disposition of the interior spaces corresponds to the traditional layout of noble homes: the daytime areas on the ground floor, the bedrooms on the first floor, the service rooms in the areas under the roof, and the den as well as the changing rooms and the bathrooms for the pool in the basement are used as a modern day blue print when building homes. 
Our Place Setting with Asian Earns as Napkin Rings
The Necchi Campiglio family wanted above all to distance themselves from the traditions of their day, and planned ample areas dedicated to the reception of guests and to the social whirl: the dining room, the smoking room, the library and the grand salon.
Intended to serve as Milan's "It" party pad, Villa Necchi Campiglio was deliberately designed for receiving guests (and wowing them every step of the way). The veranda was often the first stop for visitors, setting the tone for wonderment and excitement of the all that's still to come. Entering through two heavy German silver sliding doors, this room elegantly echoes the materiality narrative unabashedly spoken in the foyer just steps before.
Right after WWII, areas of the villa underwent changes effected by the architect Tomaso Buzzi, who sweetened the linearity of Portaluppi's style, and inserted aspects inspired of the 18th century, especially those in the style of Louis the 15th of France.
Each trip we take we consistently bring back artifacts and inspiration as a TableTop and Barware company this seeps into everything from upcoming collections to setting all our tables. 
The Guests
We invite you to look around your home and see what design or influence or trinkets you can incorporate to your table settings.
Warmest,
Michou