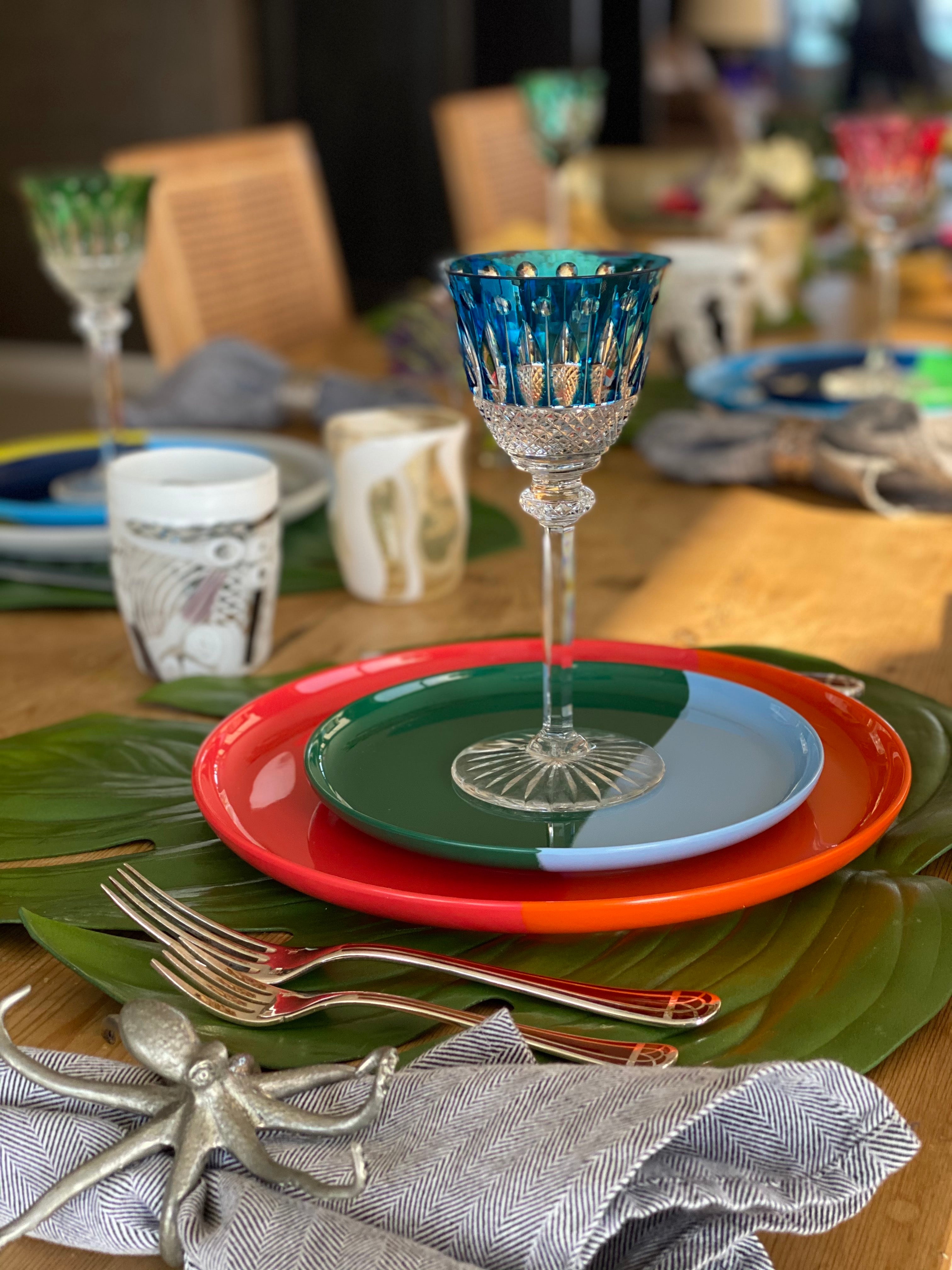 l'importance de Maison et Objet pour l'économie française du savoir-faire et le secteur mondial de la maison

Thomas Fuchs et Michou Mahtani
March 24th -28th  2022
Hall 4 Stand C30
L'importance de Maison et Objet pour l'économie française du savoir-faire et le secteur mondial de la maison
"From Miami to Maison"
De Daniel Rosenberry à Vigil Abloh en passant par la série : « EMILY in Paris », il semble que tous les Américains débarquent à Paris! 
Thomas Fuchs & son associé, Michou Mahtani, propriétaires de "Thomas Fuchs Creative" sont les derniers à apporter cette «American Touch » avec leur art de la table, à Paris. 
De leurs collections épuisées au Bonmarché, à la Fondation Louis Vuitton, Michou Mahtani explique l'importance de la « validation française » comme il aime la nommer, avec son accent affirmé . 
Michou Mahtani dit : "personne ne le fait comme les Français, nous nous assurons que tous les modèles de Thomas Fuchs, peu importe où ils sont fabriqués, ont le « Savoir Faire » des Français. Il est essentiel de noter qu'au cours des 15 dernières années, leur marque s'est vendue au plus grands des détaillants légendaires du monde entier, et ils ont acquis encore plus de notoriété et de reconnaissance, une fois que les clients français ont validé leurs lignes. 
Des lustres en verre de Murano à leur collection d'Art de la table, cette marque a offert différents niveaux d'accessibilité esthétique et en matière de prix pour apprécier leurs produits faits à la main, dans une tradition presque artisanale.
L'expérience de Thomas Fuchs dans le soufflage du verre, sur l'île de Murano, lui a donné un aperçu clé pour emmener à bien sa fabrication personnelle, dans des pays comme l'Égypte, l'Italie, l'Afrique, l'Inde en travaillant avec des souffleurs de verre dans chacun de ces pays et en s'inspirant de chacune de leurs techniques culturelles tout en les incorporant dans son conception aussi singulier qu artistique . Cet angle unique a continué à prouver leur attrait mondial et sera encore plus répandu lors de leur présence au  salon Maison et Objet Paris  du 24 au 28 mars, à Paris,  pour lancer la dernière collection de leur emblématique "1/2 & 1/2" Indoor / ligne art de la table en mélaminé extérieur. 
1/2 & 1/2 Collection
Alors qu'il dirigeait les ambassadeurs Louis XIII de la maison: Remy Martin, Mahtani s'est fait connaître pour ses dîners exceptionnels, qu'il a organisé avec des « happy fees » mondiaux dans les domaines de l'art, de la musique et de la photographie. Mahtani est allé plus loin en créant une série de dîners d'art unique, nommé: "Tavolo Dinner Series" où 4 fois par an, ces messieurs offrent leur appartement en enlevant toutes leurs peintures et objets permettant à l'artiste de l'utiliser comme une toile vierge en plus de tirer parti des talents culinaires de Thomas Fuchs où il cuisine à la maison un repas inspiré par l'art choisi et Michou Mahtani lui associant sa culture à multi facettes en dressant des tables à couper le souffle, grace à des associations incluant  leurs nombreuses collections et d'autres grands noms de l'Art de la table tout en créant une expérience 3D.
Art de La Table 
M. Mahtani dit « Maison &Objet est la référence en matière d'articles pour la maison et du design d'intérieur, c'est le seul salon professionnel auquel les détaillants du monde, grands et petits, viennent, nous avons attendu 15 ans pour faire ce salon mais la croissance du secteur ne peut être niée et Paris, qui a été l'endroit où nous avons pu lancer la marque sur le marché mondial, nous nous devions donc d'y être en 2022 pour cette nouvelle collection  ». 
Il ajoute : « Alors que nous sommes tous de plus en plus chez nous, il est maintenant temps ,plus que jamais, de retourner à l' Aire des grandes et belles tablées. Le retour des salles à manger prouve un changement dans notre histoire culturelle et quel meilleur endroit pour apprécier le design et la couleur que dans notre vaisselle et notre verrerie de tous les jours. Leur nouvelle collection en mélanine s'inspire de toutes les couleurs que nous avons vues pendant les défilés mais aussi de la nature qui avait repris sa place première durant la pandémie .
Être à l'intérieur et regarder dehors alors que la paix prenait le dessus, les eaux devenaient plus claires, nous pouvions voir des couleurs qui étaient auparavant atténuées. De nos assiettes fluo/gris à nos combinaisons corail/rose il y a un combo de couleurs pour chacun ! Maintenant que la marchandise est à nouveau en mouvement et que la production est en hausse, il est temps de faire de nos tables une tableau coloré ! » 
1/2 & 1/2 Indoor / Outdoor Melamineware Collection 
Ce duo de créateurs distingués ont établi avec leur marque: « Thomas Fuchs Creative » des comparaisons avec Yves Saint Laurent & Pierre Berge ainsi qu'avec Valentino & Giancarlo Giametti. Les connaisseurs les surveillent depuis des années et ils sont régulièrement apparus dans de nombreuses publications de Vogue, Elle Decor et Architectural Digest , allant de l'Italie au Mexique. Ils ont même reçu à Paris en 2019, le prix du « Best Pick » pour Maison & Objet sans pour autant y être exposants ! Par ce choix de participation au salon, en 2022, le Duo détonnant  de « Thomas Fuchs Creative » va donc exposer son Savoir Faire en le faisant Savoir … 
Written by: Celeste de Gournay
English Version 
From Daniel Rosenberry to Vigil Abloh to the show "EMILY in Paris" it looks like all the Americans are descending on to Paris. Thomas Fuchs & his partner Michou Mahtani owners of "Thomas Fuchs Creative" are the latest ones to bring their "arts de la table" to Paris.
With sold out collections at Le Bonmarché and Fondation Louis Vuitton Mr.Mahtani explains the significance of French validation. Mr. Mahtani says " no one does it like the French, we make ensure that all of Thomas designs no matter where they are manufactured have the savior Faire of the French. It is key to note that over the last 15 years their brand has sold at top legendary retailers globally gained even more notoriety and validation once French clients acquired their lines. From Murano glass chandeliers to their table top collection this brand offers various levels of entry to appreciating their hand made goods.
It is so unique for a brand to have all their items at the various levels being able to be brought to the marketplace. Fuchs' background in glass blowing on the island of Murano gave him key insight to taking his manufacturing to countries like Egypt, Italy, Africa, India working with glass blowers in each of those countries drawing on each of their cultural techniques and incorporating them into his design.
This unique angle has continued to prove their global appeal and will be even more prevalent at their first ever Maison et Objet Paris upcoming show in Paris March 24-28 to launch their latest collection of their iconic "1/2 & 1/2 " Indoor / outdoor melamine "art de la table line". While heading Remy Martin's Louis III Michou Mahtani became known for the curated dinners he hosted with global luminaires in the fields of art, music and photography.
Mr. Mahtani has taken it a step further by creating a unique art dinner series "Tavolo Dinner Series" where 4 times a year these gentlemen gift their apartment by removing all their paintings and objects allowing the artist to use it as a blank canvas in addition to leveraging Fuchs culinary talents where he home cooks a meal inspired by the art and Mahtani sets the table matching one of their many table top collections with the art creating a 3D experience.
Mr. Mahtani says " Maison Objet is the gold standard for home goods and home design this is the only trade show the worlds retailers big and small come to we waited 15 years to do a show but the growth in the home sector cannot be denied and Paris is the place for us to launch the brand into the global market". With all of us being home now more than ever the return to the dining table proves a shift in our cultural history and what better place to appreciate design and colour that in your everyday dishware and glassware.
Their newest collection of Melamine Table top is inspired by all the colours we saw during covid. Being inside and looking out as peace took over noises died down, waters became clearer we were able to see colors that were muted before. From our neon / gray plates to our coral / pink combinations there is a colour combo for everyone's home!
Now that merchandise is on the move again and production is up this is the time to make all Our homes more colourful ! These two distinguished gentlemen have drawn comparisons to Yves Saint Laurent / Pierre Berge as well as Valentino / Giancarlo Giametti. The cognoscenti has had their eye on them for years having appeared in many an issue of Vogue, Elle Decor and Architectural Digest in issues and online spanning from Italy to Mexico. Their Stand in Hall 4 Stand C-30 is a "MUST SEE" while visiting Maison Objet March 24th -28th, 2022.