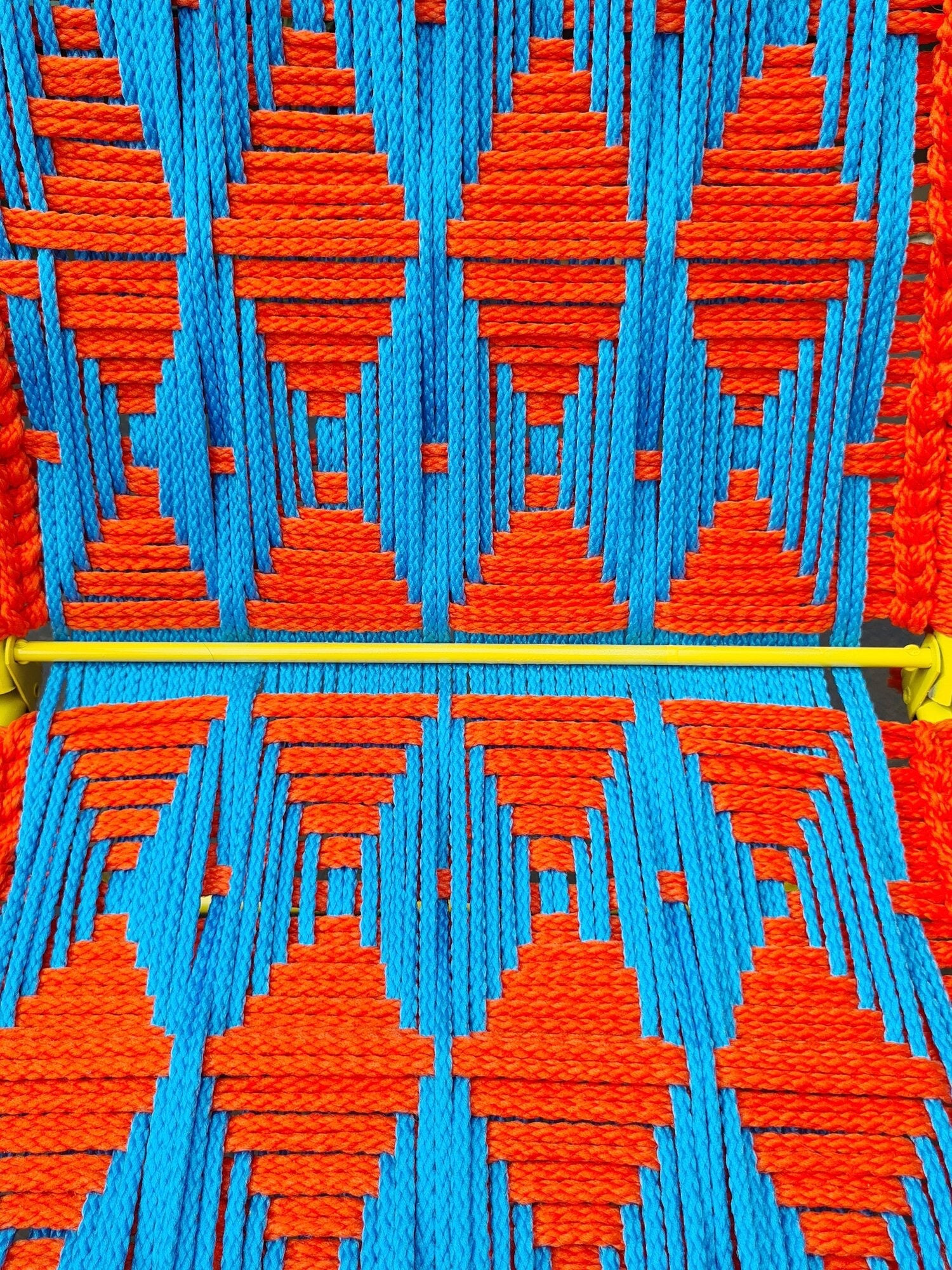 SPRING INTO SUMMER WITH DIY COLOUR & THOMAS FUCHS MELAMINE COLLECTION
Welcome to our ONLINE STORE  and blog. 
As a barware, lighting and  home accessories design company, we at Thomas Fuchs Creative specialize in handmade goods. Every week we give you behind the scenes to the people, places and things that inspire us.
This week we introduce you to a "DIY" hack that matches our latest Summer 2022 Collection inspired by sun, fun and all things indoor and out door! 
Kitiyapalaskas has shown us how to "upcycle" old beach chairs to give them a colourful makeover using spray paint and some easy macramé knotting techniques, bringing instant summer vibes to your backyard. Read on to learn how you can create a pair of these woven stunners for yourself!
Facebook Market Place Lawn Chairs
You will need
An old folding beach chair (or two!)

2 balls of 6mm macramé cord in different colours, approximately 90 metres in length per chair

2 large 16mm crochet hooks

Coloured spray paint in different colour combos

Painter's masking tape

Sandpaper

Scissors
Prepare the chairs
To get your chairs ready to paint, you'll need to first remove any existing strapping on the chairs. Once the frames are empty, use sandpaper to buff the entire frame and armrests, as well as any rusty spots. To paint the chairs in 2 colours, first mask off the armrests and spray the frame. Once this is completely dry (refer to the dry time suggestions for your specific spray paint brand), mask or cover the frame and spray the armrests with a different colour.
Rust-o-leum spray paint, which is available at many hardware stores. The Ultra Cover range is a paint and primer in one, so you won't have to prime any plastic or metal surfaces first.
When deciding on what pattern you're going to use for your weave there's a couple of different options. You can either create your own design (I would suggest mapping it out on some grid paper), or, you can use a design that already exists. I found some fantastic vintage craft books on Etsy in digital PDF form which I purchased as a guide. Here's the shop I found mine from, but I'm sure there's many more. A quick Google or Etsy search will bring up lots of options!
When you've got your pattern sorted and you're ready to start weaving, follow the steps in the video below! Each section is woven from one continuous length of cord. I love this because it means if you ever need to re-weave your chair or change colours completely, you'll be able to efficiently reuse the full length of cord and reduce waste.
This DIY project will make you smile, make your day brighter and your nights last longer and of course we encourage all of you to do this project while snacking on our Melamine Plates and Dinnerware!
Some of the effects of colors appear across several cultures. Warm colors like red, yellow and orange evoke higher arousal emotions, such as love, passion, happiness, and anger. Cool colors, like blue, green and purple are linked to calmness and comfort.
Colors can trigger these arousal states and emotions. Several studies show the impact of the paint color used in offices or living rooms on the mood of people in them.
Have a great DIY weekend Y'all!
Michou