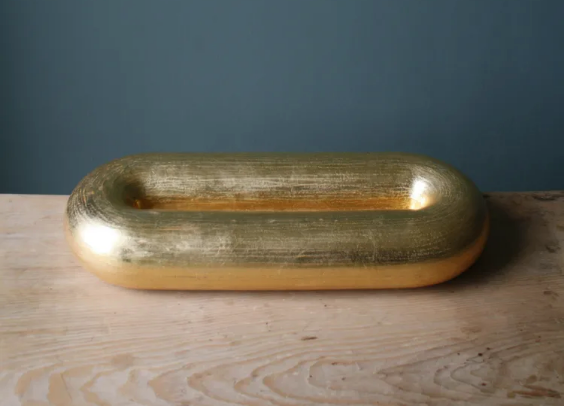 THE SHAPE OF THINGS TO COME
Welcome to our blog and ONLINE STORE.
As a barware, home goods and design company we at Thomas Fuchs Creative  every week we give you behind the scenes to the people, places and things that inspire us. 
This week we introduce you to artist and sculptor James Rigler.
James Rigler's distinctive ceramic and metal leaf pieces exist at the intersection of pure sculpture and functional furniture. Their bold forms are inspired by elements of architectural ornamentation, found in monumental and palatial structures. The artist comments that he is, 'led by thoughts of ruined and abandoned ancient places, romantic landscapes and stage sets.'
Yet, through the use of contemporary details such as metallic colour and exaggerated scale, he removes any standard allusion to these reference points, and creates playful objects that intrigue us in their enigmatic practical and aesthetic intentions.
James is a graduate from the Ceramics and Glass MA at Royal College of Art, UK. In 2013 – 2014, he undertook a six-month ceramics residency at the Victoria and Albert Museum and his work forms part of their permanent collection.
He also has works in the permanent collections of the Crafts Council UK, Chatsworth House, UK and Brighton Museum & Art Gallery, UK. He is the recipient of the Grand Prize for New Talent, European Ceramic Context Biennial, Denmark 2014 and the Inches Carr Trust Award 2017. He was a winner of Jerwood Maker's Open 2012.
Additional residencies include; the International Ceramics Research Centre, Guldergaard, Denmark, the Northern Gallery for Contemporary Art, Sunderland, and Cove Park, Scotland. In 2014 he was the recipient of the prestigious European Ceramic Context New Talent Award.
Have a fantastic week,
Michou