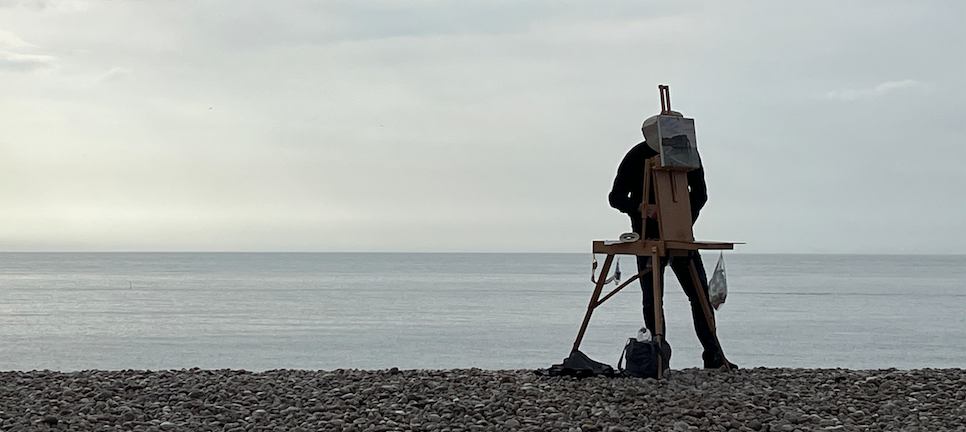 EN PLEIN AIR - THOMAS FUCHS' MONTH LONG PAINTING JOURNEY w/ ECOLE DES BEAUX ARTS
Thomas Painting "En Plein Air" 
Welcome to our ONLINE STORE  and blog. 
As a barware, lighting and home accessories design company, at Thomas Fuchs Creative we specialize in handmade goods. Every week we give you a behind the scenes look at the people, places and things that inspire us.
This week I reflect on Thomas' month long painting trip in France this past summer. Thomas along with 16 other students all took the voyage to France to "paint en plein air". From the beginning of Thomas' education, having attended and completed University at the renown Corcoran School of Art and Design located in a Museum in Washington D.C. , Thomas' love for art remains at the center of his career and our life.
Thomas in Paris along the Seine
In the Socratic dialogue 'Republic', Plato famously wrote: "our need will be the real creator" which was moulded over time into the English proverb 'Necessity is the mother of invention', in our case I always say inspiration is the key to innovation.
People always ask me what inspires Thomas and us as a company to bring handmade goods to the marketplace which is already filled with a bombardment of goods from factories all over the world. My response is that our goods are not made out of necessity being the mother of invention but more from the necessity of keeping alive the handmade craftsmanship from so many Countries and cultures. Thomas interprets the craftsmanship and techniques into sustainable high design in colours and textures that are relatable to todays inclination. Handmade products have a vibration and texture that the eye reads and the soul feels. 
Thomas Fuchs Melamine Dinnerware
&
Thomas Fuchs Garden of Eden Porcelain Villari Champagne Bucket
Thomas is a true artist. Over the last 16 years of being together I have witnessed Thomas consistent self enrichment. Weather it be taking classes in New York City with renown painter Mary Beth Mackenzie at the Arts Student League or a jewelry making class at Monmouth University (where we had our beach bungalow) to current day FIU's Plein Air Painting program affiliated with the École des Beaux- Arts in Paris, Thomas continued his journey as an artist this past summer in France.
En plein air (pronounced [ɑ̃ plɛ.n‿ɛʁ]; French for 'outdoors'), or plein-air [1] painting, is the act of painting outdoors.
This method contrasts with studio painting or academic rules that might create a predetermined look. The theory of 'En plein air' painting is credited to Pierre-Henri de Valenciennes (1750–1819), first expounded in a treatise entitled Reflections and Advice to a Student on Painting, Particularly on Landscape (1800),[2] where he developed the concept of landscape portraiture by which the artist paints directly onto canvas in situ within the landscape.
Vincent Van Gogh's town where he spent the last 80 days of his life
It enabled the artist to better capture the changing details of weather and light. The invention of portable canvases and easels allowed the practice to develop, particularly in France, and in the early 1830s the Barbizon school of painting in natural light was highly influential.[3] Amongst the most prominent features of this school were its tonal qualities, colour, loose brushwork, and softness of form. These were variants that were particularly relevant to the mid 19th-century Hudson River School and to Impressionism.[4]
Thomas' self made colour palette
Before the 19th century, artists had mixed their own paints from raw pigments that they often ground themselves from a variety of media. This had made for inconvenient portability and kept most painting activities confined to the studio. However, in the 1830s, the Barbizon school in France that included Charles-François Daubigny and Théodore Rousseau used the practice of en plein air to depict the changing appearance of light accurately as weather conditions altered.[5]
This situation improved later in the 1800s when tubes of oil paint became available, allowing En plein air painting to become viable for more artists, the collapsible paint tube being invented in 1841 by American portraitist John G. Rand.[6]
Monet's Plein Air Painting 
In the early 1860s, four young painters: Claude Monet, Pierre-Auguste Renoir, Alfred Sisley and Frédéric Bazille, met whilst studying under the academic artist Charles Gleyre. They discovered that they shared an interest in painting landscape and contemporary life, and they often ventured into the countryside together to paint in the open air.[7] They discovered that they could paint in sunlight directly from nature, and making use of the vivid synthetic pigments that were available, they began to develop a lighter and brighter manner of painting that extended further the Realism of Gustave Courbet and the Barbizon school.[8] It was radical practise at its inception, but by the later decades of the 19th-century the theory had been absorbed into normal artistic practise.
There were artists' colonies across France, such as the one at Étaples on the Côte d'Opal that included landscape impressionists Eugène Chigot and Henri Le Sidaner. The latter artist specialised in translating nocturne light to canvas using oil and pastel.[9]
The Macchiaioli were a group of Italian painters active in Tuscany in the second half of the nineteenth century, who, breaking with the antiquated conventions taught by the Italian academies of art, did much of their painting outdoors in order to capture natural light, shade, and colour. This practice relates the Macchiaioli to the French Impressionists who came to prominence a few years later, although the Macchiaioli pursued somewhat different purposes. Their movement began in Florence in the late 1850s.
In England the Newlyn School was also a major proponent of the technique in the latter 19th century.[10] There were lesser known artist colonies practising, including a loose collective at Amberley in West Sussex centred around the Paris trained Edward Stott who produced atmospheric rural landscapes that were highly popular among some late Victorians.[11]
The movement expanded to America, starting in California then moving to other American locales notable for their natural light qualities, including the Hudson River Valley in New York.
The act of outdoor painting from observation has been continually popular well into the 21st century.[12][13] 
Thomas' Painting of Versailles Hall of Mirrors
Its very apropos that Thomas as a Murano glass lighting and chandelier designer chose to paint Versailles Hall of Mirrors being that the main focus in the hall apart from the ceiling is the lighting of stunning hanging crystal chandeliers lighting up the fresco above. 
Thomas' painting of Versailles' Hall of Mirrors was chosen to be displayed at the University's Art Show as one of the best in show. It goes without saying the formidability of Thomas as an artist is not only justified on a commercial level but stems from a deeper stream of conscience where his inspiration flows and manifests itself into him being a modern renaissance man. Weather it be in the kitchen cooking haute cuisine for our artist dinner series, at a factory in far off lands learning techniques from a lost time or on the retail floor of the legendary retailers we sell our goods at Thomas is the artist in motion.
Have a great weekend,
Michou