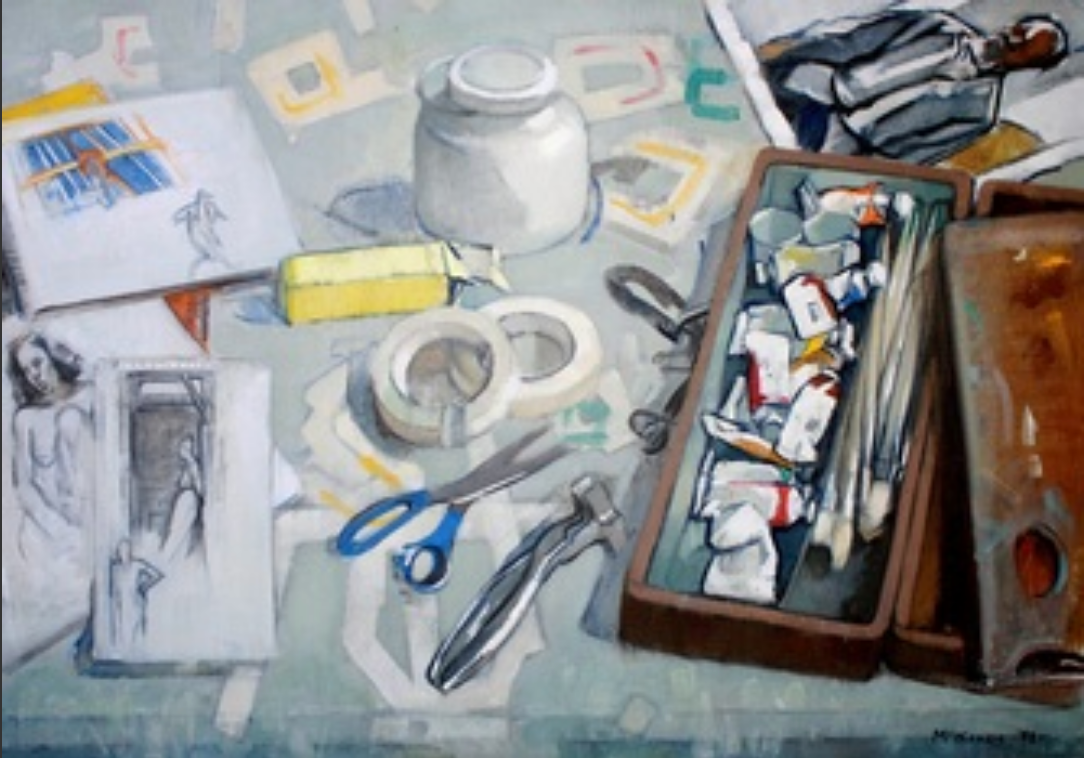 MARY BETH MACKENZIE - AN AMERICAN MASTER IN PORTRAITURE - A LOOK AT OURSELVES THROUGH SOMEONE ELSES EYES
Thomas Fuchs by Mary Beth Mackenzie
Welcome to our ONLINE STORE  and blog. 
As a barware, lighting and  home accessories design company, we at Thomas Fuchs Creative specialize in handmade goods. Every week we give you behind the scenes to the people, places and things that inspire us.
This week we introduce you to a close friend of Thomas' an artist / painter by the name of Mary Beth Mackenzie.
As covid endured we were stuck in our apartment looking at ourselves in the mirror and looking at our walls with our art trying to reimagine our spaces and perhaps hang paintings in new places bringing them back to life having our eyes and our minds look at them in a different light.
This took me back to Season 1 Episode 6 Netflix's "The Crown" Assassins where for his 80th birthday, Winston Churchill was presented with a full-length portrait by artist Graham Sutherland and his reaction to it. 
"Self Portrait (Tony and my mother)" 2012. Oil. 50 x 40 inches
This was more so evident for us as we have 3 of Mary Beth's paintings in our bedroom, one being the above shown portrait of Thomas.
The process of introspection of ourselves and our places begged a deeper question of how we see ourselves versus how we are seen through the eyes of other people, moreover an artist eyes and then looking at the artist's interpretation of us reflected on canvas. 
"Lemington" 2010. Oil. 50 x 28 inches
Portrait paintings go beyond simple documentation, it is the artist's interpretation of the subject. Portraits can be realistic, abstract, or representational. Thanks to photography, we can easily capture records of what people look like throughout their life. This was not possible prior to the invention of the medium in the mid-1800s, so people relied on painters to create their portrait. 
A painted portrait today is often seen as a luxury, even more than it was in previous centuries. They tend to be painted for special occasions, important people, or simply as artwork. Due to the cost involved, many people choose to go with photography instead of hiring a painter.
Many artists also choose to do a "self-portrait." It is a work of art depicting the artist created by their own hand. These are typically made from a reference photo or by looking in a mirror. Self-portraits can give you a good sense of how an artist views themselves and, quite often, it is rather introspective. Some artists will regularly create self-portraits, some just one in their lifetime, and others will not produce any.
An American painter of contemporary figures in the realism style Mary Beth was born in Cleveland, Ohio and currently resides in New York City where she teaches art at National Academy of Design[1] and the Art Students League of New York.[2]
"Mery (two figures)" 2006. Oil. 51 x 60 inches
Her works of art are currently in the collections of the Metropolitan Museum of Art, the National Museum of American Art, the Brooklyn Museum,[3] the Museum of the City of New York, the National Museum of Women in the Arts, the Butler Institute of American Art, the New Britain Museum of American Art, the Art Students League of New York, and the National Academy of Design.
"Dying Swan" 2006. Oil. 60 x 50 inches
In 2008 the Metropolitan Museum of Art, purchased two monotypes, Front Porch Restaurant[4] and Diner (2nd stage),[5] as well as a plate for Front Porch Restaurant and Diner (2nd stage). The Metropolitan Museum of Art permanent collection also includes thirteen monotypes from McKenzie's Circus as well as three oils and three sketch books also by McKenzie.
One could speculate that the majority of portraits are created while the subject is still alive. It may be a single person or a group, such as a family.
Stop and take time to look within ;-)
Have a great weekend !
Michou