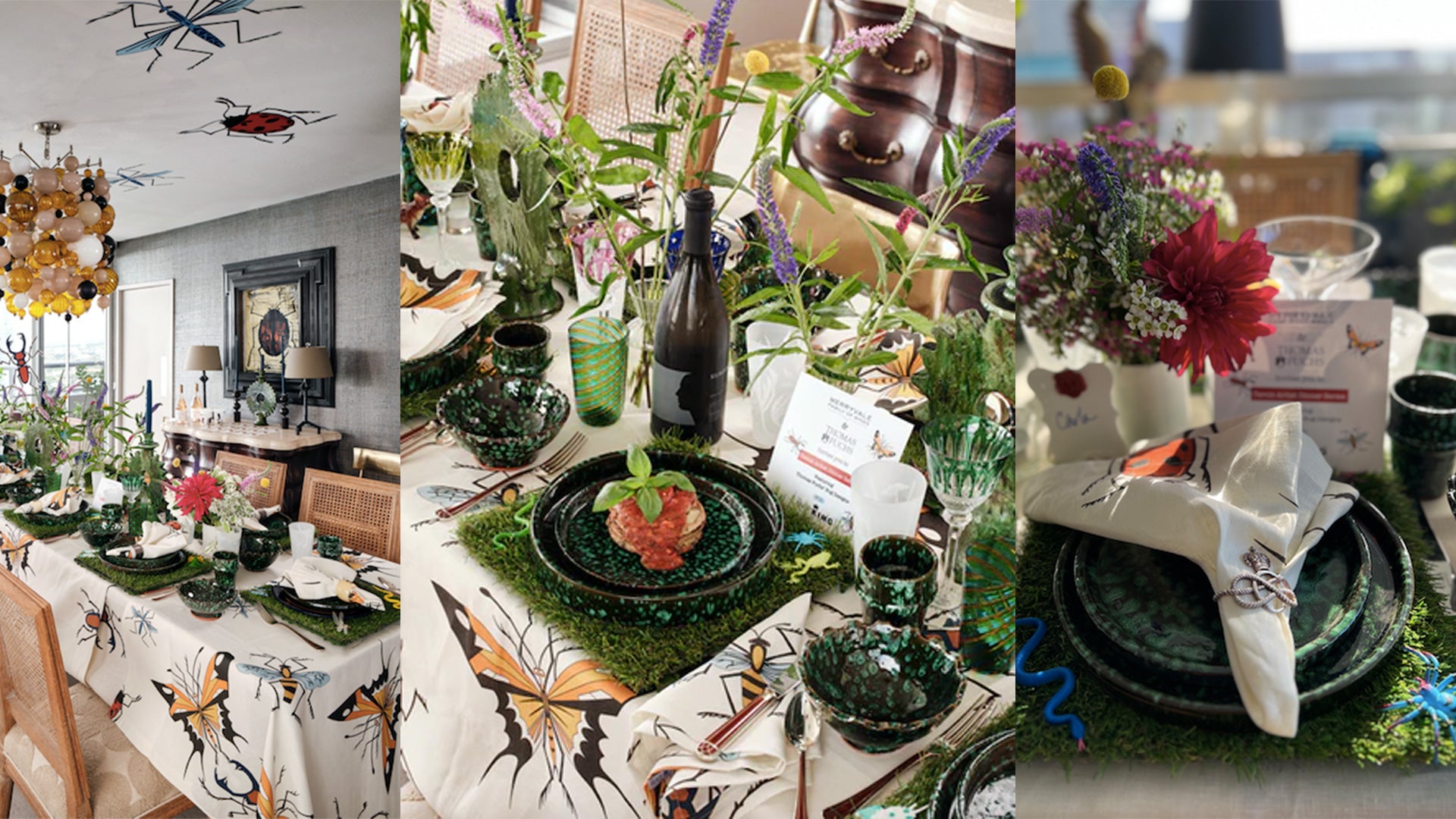 "HAUTE HALLOWEEN" - 7 STEPS ON HOW TO SET A TABLE-SCAPE WITH AMAZON
Amazon Halloween Tablescape
Welcome to our blog and online store.
Every week we take you behind the scenes of our company giving you behind the scenes look at the people and places that inspire us.
This week we use Amazon step by step to set a "Haute Halloween " Thomas Fuchs Table-scape enhancing everyones home decor taking it to the next level while being cost effective.
1998 Oscars: Sharon Stone Pairing a White Gap Shirt w/ Vera Wang Ballgown
We like to think of it like when actress Sharon Stone famously paired a Vera Wang ballgown with a Gap shirt a high/low alternative to give you high design impressing all your friends and family. 
By using your mouse to click on each of the "Steps or Images"  below you will be lead directly to purchase the products online.
Thomas Fuchs Peel & Stick Adhesive Bugs
STEP 1: Thomas Fuchs Pack of 4 Adhesive Bugs
Following the popularity of the Thomas Fuchs "Tavolo Artist Dinner Series" the Bugs made their way off the tablecloth into the room on to the walls, ceiling and glass sliding doors.
This lead us to launch a line of peel and stick adhesive bugs that can be stuck anywhere on your doors, walls, ceiling and glass surfaces. 
Thomas Fuchs NapKing 100% Linen Table Cloth
STEP 2: NapKing Tablecloth and Napkins
Set your table with Thomas Fuchs' collaboration for renown Italian linen company The NapKing spawned a collection of Bug tablecloth and napkins.Table cloth and napkins are 100% Italian linen and can be machine washed. 
Home Depot Traffic Master 1Ft x 1Ft Artificial Tile 
STEP 3: Traffic Master Outdoor Tiles / Placemats 
Traffic Master's artificial grass tiles are made for outdoors but ironically their size and price make it a perfect match to use as a placemat all year round. Weather in the Fall / Winter season these will bring bright cheer to your table and being synthetic you can place them in the dishwasher .
Thomas Fuchs Silver/Grey Melamine Dinnerware
STEP 4: Thomas Fuchs Melamine Dinnerware 
Set your table with our stylish and colorful indoor/outdoor dinnerware that comes in 5 fun colors. for your halloween table we suggest our Silver/ Grey two tone dinnerware that come in sets of 4. You can buy sets of 4 Dinner Plates; 4 Salad/ Dessert Plates; 4 Soup/Cereal Bowls . All our dinnerware in machine washable. tap the link above and pick up a set of your favorite colorway. 
STEP 5: UMEELR 36 Pcs. Realistic Plastic Small Fake Bug & Insects
Super value set: This 36 toy bugs and insect set pack includes 3 Ants, 3 Bees, 3 Lady Bugs, 3 Dragonflies, 3 Wasps, 3 Beatles, 3 Mantis, 3 Butterflies, 3 Scorpions, 3 Houseflies, 3 Tarantulas, 3 Beetles and 3 Grasshoppers. Every bug has realistic bug colors that do not fade.
STEP 6: WYT 20 Piece Stainless Steel Rainbow Flatware
This 20 pcs set includes : 4 Dinner Knives, 4 Dinner Forks, 4 Dinner Spoons, 4 Salad Forks, 4 Dessert Spoons perfect for family daily use. Iridescent coating is the original stainless steel outer vacuum plasma coated with a layer of precious metals, because its metal not paint you will not have paint chips and not have to worry about the color coming off.
Craspire Butterfly Wax Seal Stickers
STEP 7: Craspire Butterfly Adhesive Wax Seal Stickers
25PCS ADHESIVE WAX SEAL STICKERS: Per pack of one color. Add a finishing touch & modern classic look to wedding invites, correspondences, mailers or use as a decorative element in gift packaging, crafting and more. These peel and stick are perfect to place on your place card tying in with the butterfly theme tablecloth. 
Our Fall Haute Halloween Thomas Fuchs Tablescape
After setting your table the next and last steps is to invite all your friends around to celebrate and enjoy all the effort. Being that Halloween is still a week away we preset our table and had photographer Dan Cutrona come shoot our Tablescape and have had 3 dinner parties over the last 3 weeks and all the decor has held up to date. 
Next step last and not least watch the clip below to get your fav #halloweencocktail recipe from SUZU @suzuvroom from @netflix hit mixology show #drinkmasters.
We hope you enjoyed our "Haute Halloween Tricks & Treats".
Have a safe Halloween!
Michou