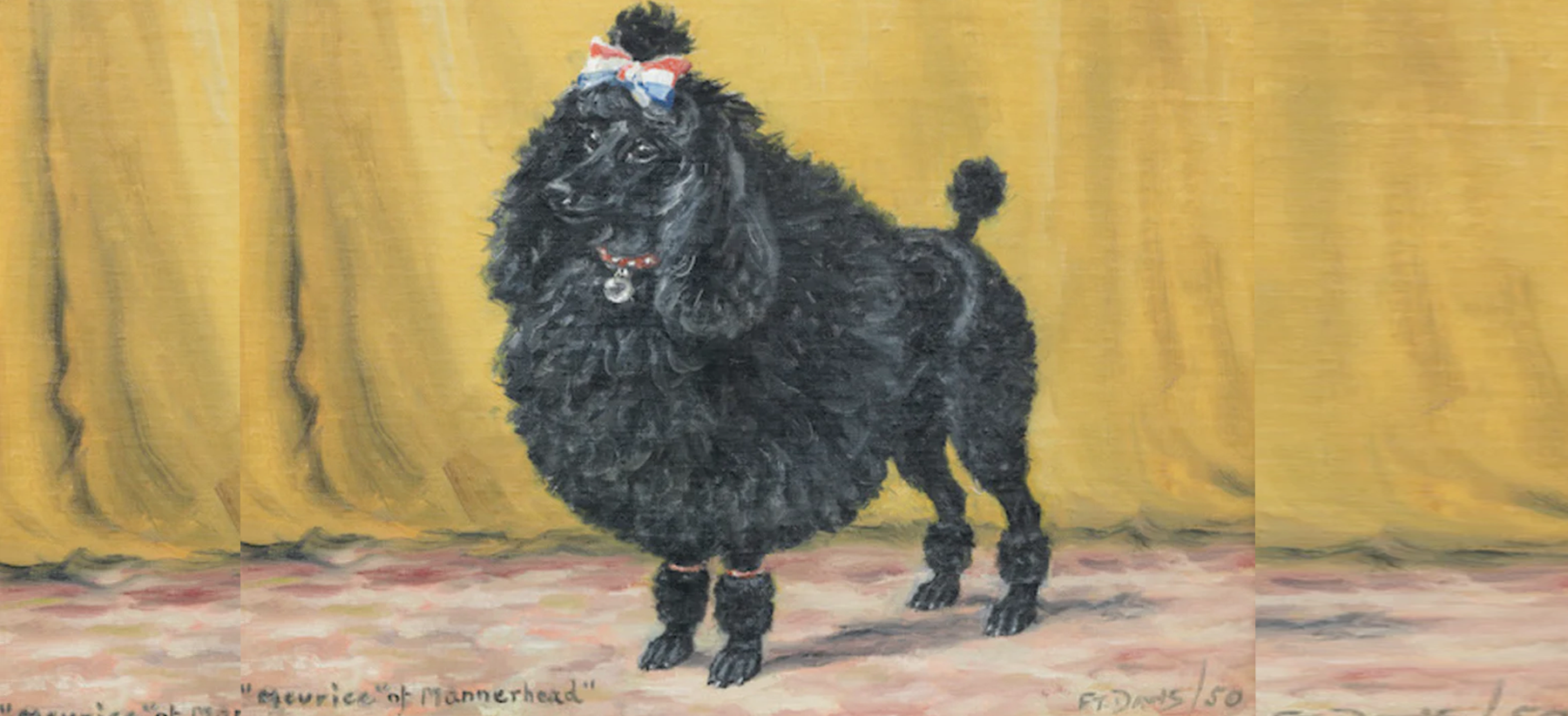 "FOR THE LOVE OF DOG" - BONHAMS DOG PORTRAIT SALE NOVEMBER 8TH, 2023
Thomas & Michou's Miami Dog Wall
Welcome to our blog and online store.
Every week we take you behind the scenes of our company giving you behind the scenes look at the people and places that inspire us.
If anyone knows both Thomas and I, you will have seen our beach bungalow on the Jersey Shore had a dog wall scaling our staircase as well as now in our Miami residence guest "garden themed" bedroom we have a dog wall made up of dog portraits from flea markets to finds painted by renown artists. 
Furthermore if you follow both our accounts on instagram @michou.de.brickell and @thomasfuchsdecor you will have seen my photographs of our dogs from over the last 15 years click HERE.
Thomas & Michou's Beach Bungalow Staircase
This week we give you a preview of renown auction house Bonhams "The Dog Sale". Bonhams is a privately owned international auction house. Founded in 1793, it is one of the world's largest and most renowned auctioneers of fine art and antiques, motor cars and jewellery.
Maud Earl (British, 1863-1943) A French Bulldog signed and dated 'Maud Earl/1900' (lower right) oil on canvas 61 x 46cm (24 x 18 1/8in).
Bonhams has a heritage and reputation for connoisseurship and bespoke service known throughout the world. Founded in London in 1793, we are the sole remaining international auction house that is privately owned and in British hands. We hold more than 400 specialist sales a year in 60 different categories at our flagship salerooms in London, New York, Los Angeles, and Hong Kong.
The breadth of our reach means that Bonhams can offer items for sale wherever the works will attract the strongest interest and keenest bidding. Matching the item to the sale is an art in itself - and Bonhams has become a master at it.
On November 8th 2023, they will be celebrating all things 'dog' with our sale exploring the portrayal of dogs in art and all the related ephemera produced in celebration of man's best friend. From dogs in portraiture, sporting art, and contemporary sculpture and printmaking, to ceramics, silver and works of art, all dog related items will be considered.
Frederick Thomas Daws (British, 1878-1956)'Meurice' of Mannerhead - A Very Fine Poodle signed and dated 'FT DAWS/50' (lower right), inscribed '"Meurice" of Mannerhead' (lower left) oil on canvas board 32.5 x 40.5cm (12 13/16 x 15 15/16in).
"Man's best friend" is a common phrase used to describe domestic dogs referring to their multi-millennia long history of close relations, loyalty, friendship, and companionship with humans. The first recorded use of a related phrase is by Frederick the Great of Prussia. It was likely popularized by its use in a poem by Ogden Nash[1] and has since become a common colloquialism.
Further on down the line in America the phrase "man's best friend" was used in the American Supreme Court in 1870 when a talented lawyer named George Graham Vest defended a man who deeply loved his coon hound named Old Drum. Vest argued that when a neighbor killed Old Drum for trespassing, the neighbor took the life of more than just a pet—he killed an important family member.
Vest famously stated, "The one absolute, unselfish friend that man can have in this selfish world—the one that never proves ungrateful or treacherous—is his dog."
Before the 19th century, breeds of dogs (other than lap dogs) were largely functional. They performed activities such as hunting, tracking, watching, protecting and guarding; and language describing the dog often reflected these roles. According to the Oxford English Dictionary, "In the oldest proverbs and phrases dogs are rarely depicted as faithful or as man's best friend, but as vicious, ravening, or watchful." Beginning in the 18th century, multiplying in the 19th and flourishing in the 20th century, language and attitudes towards dogs began to shift.
Renown Socialite Brooke Astors Holy Hill Estate Designed by Albert Hadley 
Dogs and people began living together 15,000 years ago when dogs followed people's migration throughout East Asia. The connection was natural because both people and dogs are social beings. Neither can thrive when alone, and both benefit mentally (and often physically) from strong social bonds.
Though domestic dogs share 99% of their DNA with wolves, dogs exude warmth to other dogs and humans that contrasts greatly with a wolf's skeptical and defensive reaction to others. Dogs are social pack animals who thrive off of attention and affection, making them a prime candidate for a person's best friend.
Since dogs have been domesticated to a point where they need us to survive, and we tend to find that we need them almost as much, people and dogs developed a symbiotic relationship. Most dog owners will tell you that their dog is a family member. And having a faithful dog at home gives us a listening ear, a warm paw to hold, and even strong legs to run beside.
Sign into Bonhams and log on the day of the "DOG SALE" November 8th 2023 
Have a great weekend!
Michou