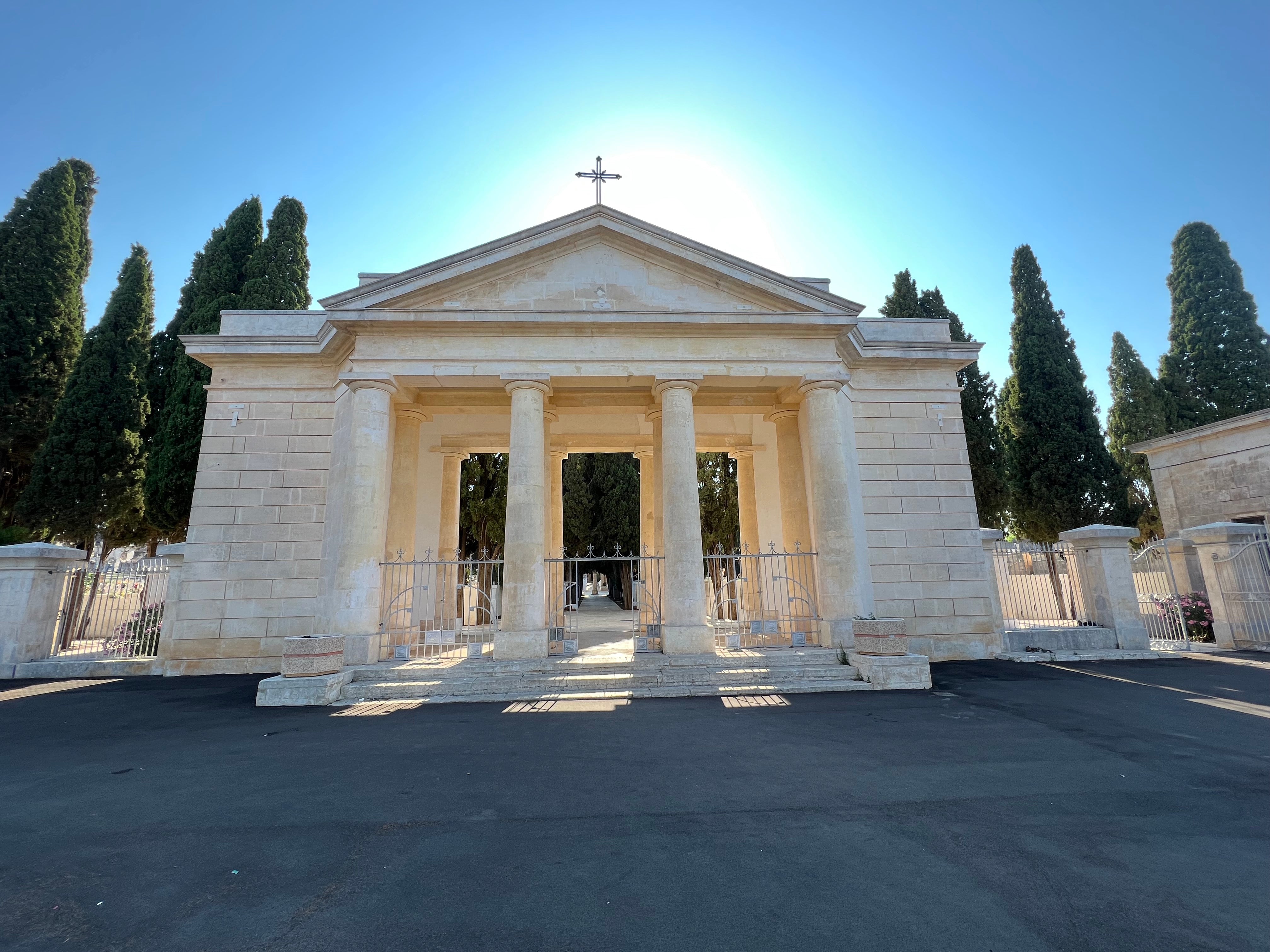 DEATH BECOMES US - THE BEAUTY OF A CIMITERO (CEMETARY) OSTUNI
The Approach
Welcome to our ONLINE STORE  and blog. 
As a barware, lighting and  home accessories design company, we at Thomas Fuchs Creative specialize in handmade goods. Every week we give you behind the scenes to the people, places and things that inspire us.
Winged Goblin Detail
This week we give you a peak into the architecture of Italian cemeteries. On the way to the beach a few Sundays ago driving down the hills of Puglia we saw the peaks of these magnificent structures. Initially it brought us back to films that evoke romance such as "Up At The Villa" however on approach we realized there we intricate and ornate mausoleums. 
Cake Stack
While some people would think death is a macabre subject both Thomas and I are atypical about this most normal transition in life. Having both lost our Fathers we cherish our Mothers and most importantly the "old fashioned" love stories they both embody and was one of the initial things we both bonded on in our own relationship.
Side View
Let us remember one of the greatest wonders of the world is the mausoleum of love that is " The Taj Mahal" (Persian: تاج محل ; /ˌtɑːdʒ məˈhɑːl, ˌtɑːʒ-/; lit. 'Crown of the Palace', [taːdʒ ˈmɛːɦ(ə)l]),[4][5][6]  which is an Islamic ivory-white marble mausoleum on the right bank of the river Yamuna in the Indian city of Agra.
It was commissioned in 1632 by the Mughal emperor Shah Jahan (r. 1628–1658) to house the tomb of his favourite wife, Mumtaz Mahal; it also houses the tomb of Shah Jahan himself. The tomb is the centrepiece of a 17-hectare (42-acre) complex, which includes a mosque and a guest house, and is set in formal gardens bounded on three sides by a crenellated wall.
Full Frontal
So perhaps the Italian took a page out of the Indian history books in creating their own resting places.
Lions Stand Guard
The Italian Cemeteries are places of culture and traditions that you must consider visiting when in Italy. 
Over the years, many people commissioned architects and artists to design special chapels and tombs for them, so many Italian cemeteries have now become open-air museums of funerary art and are known as Cimiteri Monumentali (Monumental Cemeteries) and are often mentioned on tourists guides as interesting locations to visit like the ones in Père-Lachaise cemetery in Paris or Saint Louis in New Orleans.
Full Frontal View with Bronze Chain Detail
Today, most Italian cemeteries consist mainly of multi-storey rows of concrete vaults, a practice echoing those of the ancient Etruscans and early Christians, sealed with a marble plaque with a small photo of the inhabitant in life.
Chain Link Detail of Craftsmanship 
In the past dead people were buried in several different ways, Napoleon introduced the current practice of urban cemeteries with the 1804 Edict of Saint-Cloud which forbade burials in churches and towns. 
Iron Door Detail
The standard cemetery in most Italian towns and villages is a walled enclosure on the outskirts of cities and towns owned by the local council rather than the church.
So while the death of H.M. Queen Elizabeth created a historical shift we must remember there can even be beauty in death and give thanks that someone as selfless as her came into our radius giving us a standard to live up to keep calm and carry on. 
Have a great week!
Michou