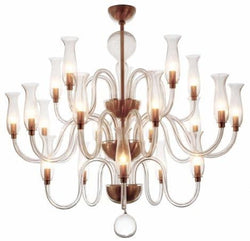 Thomas Fuchs Creative
Venti Luce Chandelier
This 20 light chandelier was inspired by the work of Giusto Nichetto, a glass blower at the factory of Seguso for over 65 years. Giusto Nichetto's inspiration was based on his travels and seeing the brass Dutch chandeliers of the 16th century. This chandelier may be inspired by the past but consists of a very contemporary point of view.
The central shaft, supporting the three tiers of arms, is blown as a large sphere to reflect light. The top and lower tiers consists of five arms each. The venter tier consists of ten arms. Eat arm supports a glass hurricane globe. The tiers are closely spaces creating an overlapping of arms resulting in a solid volume of glass shapes. The chandelier terminates with a large glass sphere hanging finial.
The chandelier can be produces as a large horizontal oval or circular overall form. The chandelier can be customized in a variety of colors.
Each chandelier will be made to order per client's specifications. Each Chandelier will be supplied with four feet of chain. Maximum wattage per socket 40.
Weight 75 lbs
Height 34 inches (86cm
Diameter 37 inches (94cm)
Color Options: Clear with 24kt Gold-Leaf
Custom Sizes and colors available