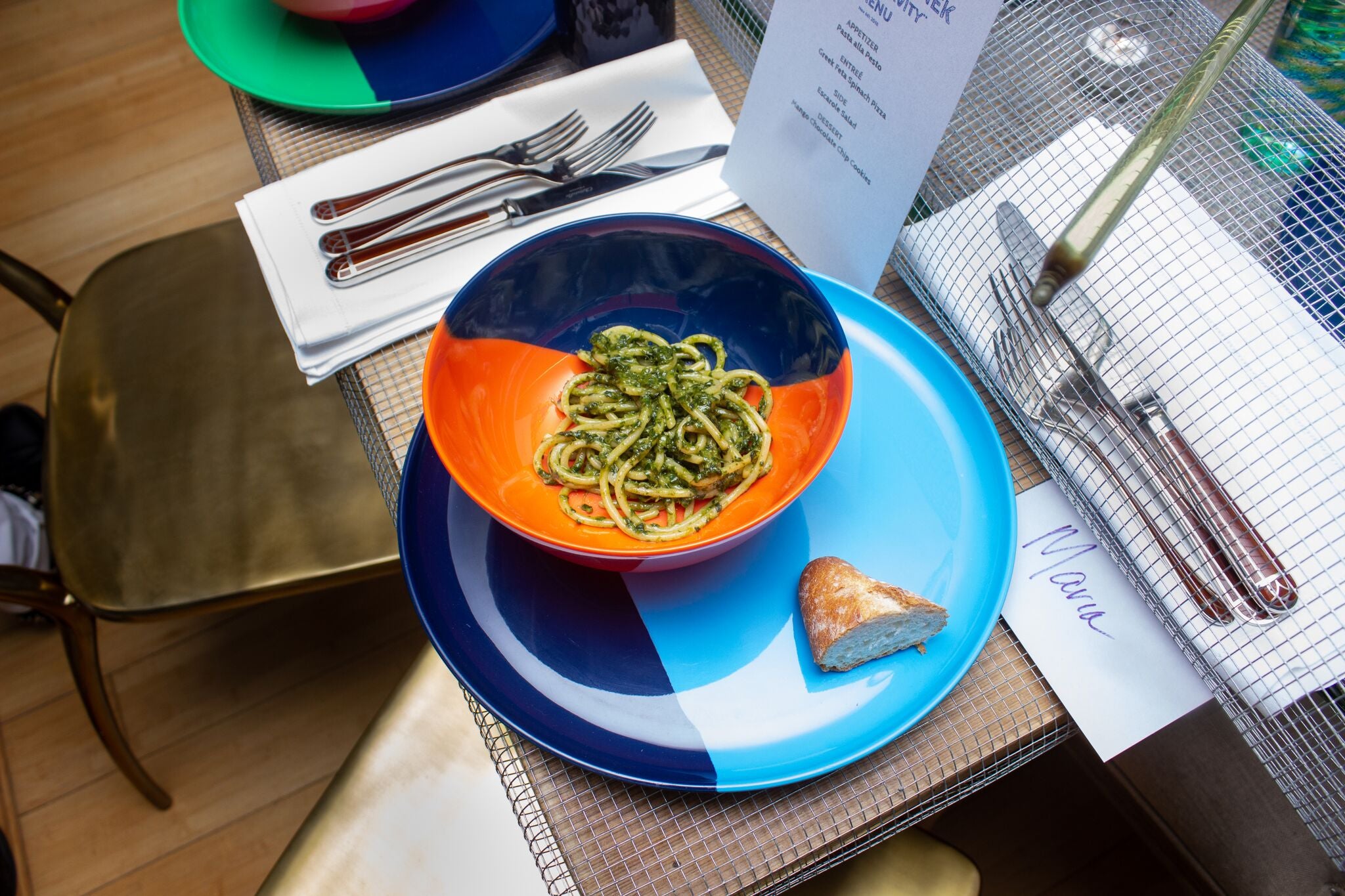 Tavolo: Fine Art Dinner Series & SŌTŌ Sake - Frida Baranek's Zero Gravity
Art Basel - Dinner Invitation 
Artist Frida Baranek suspended in "Zero Gravity" having a fresh drink of @polandspringwtr
Welcome to our online store and blog. Every Monday and Friday we invite to peak behind the scenes of the people, places and events that inspire us.
This week we invite you to read the amazing article by journalist Janet Mercel on our Tavolo Dinner Series which debuted during Art Basel 2018. Since Art Basel has been postponed for 2020 we take a look back to a stunning night of Art & Food.
Building the Floating Dinning Table with Industrial Chicken Wire 
Home design power duo Thomas Fuchs and Michou Mahtani (Thomas Fuchs Creative, Otium, Foxware) are taking their aesthetic to a new arena: the Miami dinner scene. "Tavolo" is a new collaborative dinner series that combines groundbreaking artists, interior design, and cuisine in an intimate home dining experience.
Design Miami Gaspar Saldanha and Perez Museum Director Doug Evans
Fuchs and Mahtani are the brains behind the luxury home accessories company Thomas Fuchs Creative, an industry favorite known for its refined shapes and craftsmanship in tabletop, barware and lighting. After transplanting their NYC-based roots to Miami, as long-time collectors themselves they were inspired to open their home to the art & design community for a quarterly soiree.
Miami Beach Botanical Garden Daniel Campana
Frost Museum Director Jordana Pomeroy
Drawing gallery directors, collectors, artists, and other luminaries to the newly tony Brickell neighborhood, each dinner features one visual artist as the evening's focal point.
Fuchs and Mahtani cover their walls with selected works and integrate the artist's aesthetic into a dramatic tablescape, while, Fuchs, an avid cook, crafts eclectic menus and prepares meals influenced by everything from the color palette to the artist's cultural heritage. "An amazing sensorial experience," enthused attendee Gaspar Saldanha of Design Miami.
 Lowe Museum Director/Chief Curator Jill Deupi and Professor Victor Deupi
For their next dinner, the pair gears up for impending Art Basel with Brazilian sculptor and painter, Frida Baranek, whose work comments on industrialization and the environment in Brazil. Baranek has lived in and worked in Rio de Janeiro, São Paulo, Paris, Berlin, New York, and London, and was most recently nominated by the Frost Art Museum in Miami and The Smithsonian
Institute for "Women Who Make History". Her pieces incorporate fibers, steel wires, and iron tubing into her woven work for a surprisingly light, fragile composition.
Journalist Matthew Esposito and Artist Alan Gutierrez
Baranek, who has shown at the Venice Biennale, the Bienal de São Paulo, MOMA in New York, The National Museum of Women in Washington, among many others, collaborated with Mahtani to develop the evening, inspired by her recent trip into "Zero Gravity". Baranek explored themes of weightlessness and space, transforming the 12-foot-dining table into a live sculpture of undulating wire waves.
Custom Floating Dining Table Inspired by Frida's Trip to Zero Gravity
Table settings of TFC's Murano glassware and melamine floated in three layers of suspended mesh material, enthralling guests and mimicking a Baranek sculpture come to life. The ½ + ½ Collection from Thomas Fuchs Creative is hand-poured melamine resin in pop-art shades of hot pink, orange and acid green with navy and white, available through Barneys New York, and will be available internationally for Spring 2019 exclusively through Harrod's in London, Le Bonmarché in Paris, and Rinascente in Milan. 
Thomas Fuchs Space Safe Melamine w/ Hand Blown Murano Glasses
Floating Dining Table with Hidden Pockets furnished with our Melamineware
Murano Glass Rods used to make the hand blown Thomas Fuchs Murano Drinking Glasses 
 Thomas Fuch's New Melamine Collection
Guests enjoyed homegrown pesto pasta, painstakingly prepared to evoke the serpentine shapes in the artist's featured works, while taking in the rest of the private viewing amid phyllo pizza with feta and spinach, Honeycrisp apple and pecan salad, and chocolate mango cookies. Jordana Pomery, head of the Frost Museum, says, I left quite sated, enveloped by the warmth of our hosts, the convivial conversation, and of course, the sake."
 Soto Sake Alcohol Sponsor
Home Made Pesto Pasta to evoke the form and shape of Frida's installation
Thomas' Home Made Greek  Pizza cut into large square to match the art forms of the evening
Celebrating the work of talented artists is always central to the Tavolo dinner series, (Tavolo is "table" in Italian), but the most important thing to Fuchs and Mahtani is being with friends and connecting the community. "The guest list and combination of people are almost more important than the meal, the artwork or tablescape," says Mahtani.
Wood & Wire Sculpture by Artist Frida Baranek
Multimedia Painting By Artist Frida Baranek
Guests included Jill Deupi, head of Lowe Museum, and Professor Victor Deupi, Doug Evans, Director of Pamm, Mikolaj of The Webster, Franklin Sirmans, director of Pamm, Daniel Campana of Miami Botanical Garden.
HOST
MICHOU MAHTANI
ARTIST FRIDA BARANEK PEREZ MUSEUM DOUG EVANS  - THE WEBSTER MIKOLAJ BAUER
ARTIST FRIDA BARANEK  & COLLECTORS
MIAMI BEACH BOTANICAL GARDEN DANIEL CAMPANA AND FROST MUSEUM JORDANA POMEROY 
DESIGNER THOMAS FUCHS AND DESIGN MIAMI GASPAR SALDANHA
HOST MICHOU MAHTANI ARTIST FRIDA BARANEK DESIGN MIAMI GASPAR SALDANHA
 Previous events have featured Miami-based artist Tony Vasquez, winner of the 63rd All Florida Exhibition, and artists Judith Tani and Andres Ferrandis.
Quotes -***
"Being able to spend time in an intimate setting hosted by Michou and Thomas with Frida is unparalleled.  It's only through occasions like this that you can truly immerse yourself into the world of great art and incredible cuisine.  These are the evenings in life that are not to be missed".  - Director Doug Evans - Perez Art Museum Miami 
Miami is very fortunate to have recent New York transplants Thomas Fuchs and Michou Mahtani as part of our burgeoning creative sector; their drive, their energy, and their vision for infusing everyday life with beauty is a wonderful addition to our city, whose arts and cultural scene has never been more vibrant. Last night epitomized all of these elements: Thomas and Michou created a perfect gesamtkunstwerk(the Wagnerian concept of "a total work of art"), with Thomas's incredible culinary creations and Michou's sublime tablescape perfectly echoing Frida Baranek's compelling works of art that surrounded us. Our fellow dinners—each of whom has a fascinating biography and greatly enriched our lively dinner conversation—rounded out the experience and confirmed that Miami is definitely ready for Thomas Fuchs Creative. My only concern is that, due to high demand, I might not be included on the guest list for this remarkable duo's next compelling and immersive experience!
Jill Deupi, J.D., Ph.D.
Beaux Arts Director and Chief Curator - Lowe Art Museum