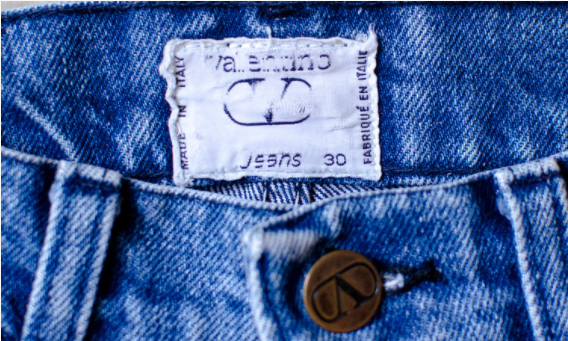 The Emperor & I - VALENTINO - WHEN VALENTINO MET RALPH LAUREN VIA DENIM
Milan Men's Fashion Week - My Inspiration
Welcome to our online store and blog.
As a home accessories, lighting and  barware company we toast the week behind, "The Weekend" and the week ahead ! We always want to look ahead and be inspiring and inspired. 
Every week we invite you behind the scenes to people, places and things that inspire us. Today that's my Valentino Jeans from the 80's. This week I take you on a journey during the lock down when I turned on my favourite songs from back in the day to help me get in the zone which gave me an idea to revive my favourite blue jeans from high school (see below).
Pino D' Angiò - Ma Quale Idea (1981)
In high school while everyone was sporting their Jordache Jeans I had my Valentinos which had a slight bell leg. I had bought them on Old Bond Street in London, where Valentino had named a store after his pug, Oliver.
I purchased them along with an orange jacket. For decades,  I held onto them through all my moves around the world, they always floated at the bottom of my pile of denim, even though the shape was out of style.
Pierpaolo Piccoli - Creative Director of Maison Valentino 
During quarantine I decided to make some changes to my closet in efforts to "spring clean" and came across my favourite jeans. Instead of tapering the leg or reconstructing the entire jean, I decided to use the above street style inspiration from Milan Men's Fashion Week and made it into a modern Denim Jacket. 
I hunted high and low online for who makes the perfect Jean Jacket, one not too square of an American silhouette but not to Euro tapered (as I still had my covid 15 pounds to shed). My thought was that If it was too big I could wear a sweater underneath it and use it on the plane when traveling. 
My hunting lead me directly to Ralph Lauren & Polo.
I kept thinking and wondering is this ethically "design kosher?".
To put a Valentino Men's Jean Logo on a Polo Jean Jacket ??!! I mean, I asked myself had they even ever met?  I "googled" the two designers and the only photo I could find of them in the same frame is from November 3rd 2014 at the funeral of famed designer Oscar De La Renta (see below).
Designers Valentino Garavani & Ralph Lauren attending Oscar De La Renta's Funeral 
Regardless of the history I had a vision. I continued on my design project marrying classic design with a more current silhouette. Since leaving NYC for Miami I hadn't found a tailor in Miami who had the vision I had in reimagining my classic wardrobe. But eventually I found Brickell Cleaners  in my neighbourhood.
My online purchase of the Ralph Lauren Denim Jacket arrived, and then I had to wait for my dry cleaner to open. As luck would have it, the 1st day post lock down it had opened and the seamstress was sitting there as if she knew I was coming in that day to have her make something very special. 
The Rear View 
My initial thought was for her to unstitch each letter from the back buttocks area of the jean and to sew it on the back of the white jean jacket in a rainbow formation.
I left but after 30 mins later ran back to her with a new idea.  I decided to keep  the essence of the old jeans and have all the letters together on the original 80's faded light blue jean background. 
The result was even better than I could have imagined.
My "New" Vintage Valentino / Polo Jean Jacket w/ Popped Collar
I came home so proud of myself that I  "whats apped" my closest childhood friends who knew me when I used to wear the Valentino jeans to say that I still had this badge of honour and friendship! 
So should you find yourself stuck back inside this winter and stores are shut, there is always a way to be inspired. Thank god for all my magazine subscriptions. Vogue is back in rotation in my mailbox among the many others! 
The Current Version of a Valentino Denim Jacket
In addition, "Upcycling" is good for the environment. Reusing fabrics that you already have is an important step in the cycle of fashion, especially when the production of denim is one of the largest consumers of water. 
https://www.fluencecorp.com/blue-jeans-water-footprint/ 
By creating new products from the existing ones in our closets, we can make a difference to shrink the waste in the fashion industry.
OUR THOMAS FUCHS SERPENT BARWARE COLLECTION 
GO GET YOUR FAVOURITE FASHION ITEM AND PUT IT ON , POUR YOURSELF A DRINK ( IN OUR BARWARE) AND TOAST THE OLD BECOMING NEW!
Enjoy Your Week ...
MICHOU