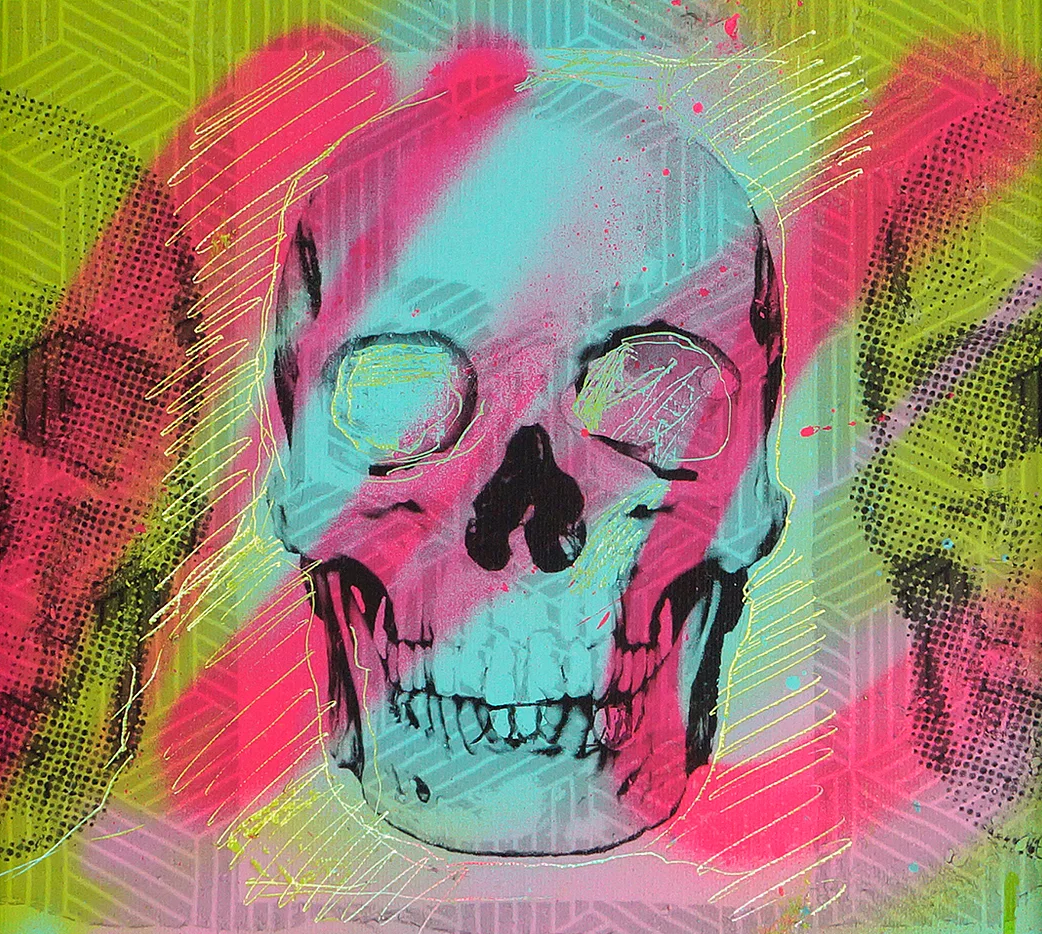 STREET ART HOME ART ITS ALL AN ART FOR FABIEN ROCCA
 Artist and Wallpaper Designer / Installer Fabien Rocca
Welcome to our ONLINE Store and blog.
Every week we take you behind the scenes to the people and places that inspire us. This week we introduce to Artist Fabien Rocca whom we met via mutual friends.
His love for street art and Skulls lays close to our heart as we have the Skull Barware which comes from the same point of inspiration. 
Fabien  was born in South of France, in Corsica, October 8, 1973.He studied at the Julian Academy Met De Penninghen in 1992. He obtained his pHD in June 1996, and worked as an Artistic Director for an advertising agency in Paris.
One of Fabien's Ceiling Wallpaper Installation Projects
In June 1997, deciding to give a more personal meaning to his work, he went to Florida searching for new inspiration. 
Having mastered different technics, he expressed the desire to share his art in Florida and painted his first series of artwork. Following a meaningful trip in Thailand in 2001, a new artistic dimension revealed itself.

 Thomas Fuchs's Fav Skull Design done by Artist Fabien Rocca
He launched his art studio and resided in Phuket for two years. Within his panel of technics, he particularly liked the silkscreen method, which allowed him to work photography and painting on the same support.

In May 2007, he became the co-founder of MYFACE Company. MYFACE Art Concept & Gallery was a digital art gallery that specialized in "digital mixed media"

MYFACE represented international artists, and published, distributed them through events, exhibitions, concept stores and galleries. In 2010, he signed a partnership with Warner Bros to celebrate the 75 Years of DC Comics.

During four years, MYFACE was in charge of creation, promotion and development of her Super-Heroes Art Collections.
With the "START" collection, his inspiration is coming directly from the street.
He's taking graphic elements, which are painted on walls and transform them into a unique patchwork.
 Custom Headboard Wallpaper - Send Fabien You Favorite Photo and he will make it into Wallpaper 
He's transcending what you are not seeing into his artistic creation,
a mix of photographies and painting. Through is unique technique nothing is printed directly on the canvas, the result is magical and unique.
If you love his Skull Art you will love our BARWARE.
Contact:
Fabien: 786.239.6965
Instagram: @fabienrocca