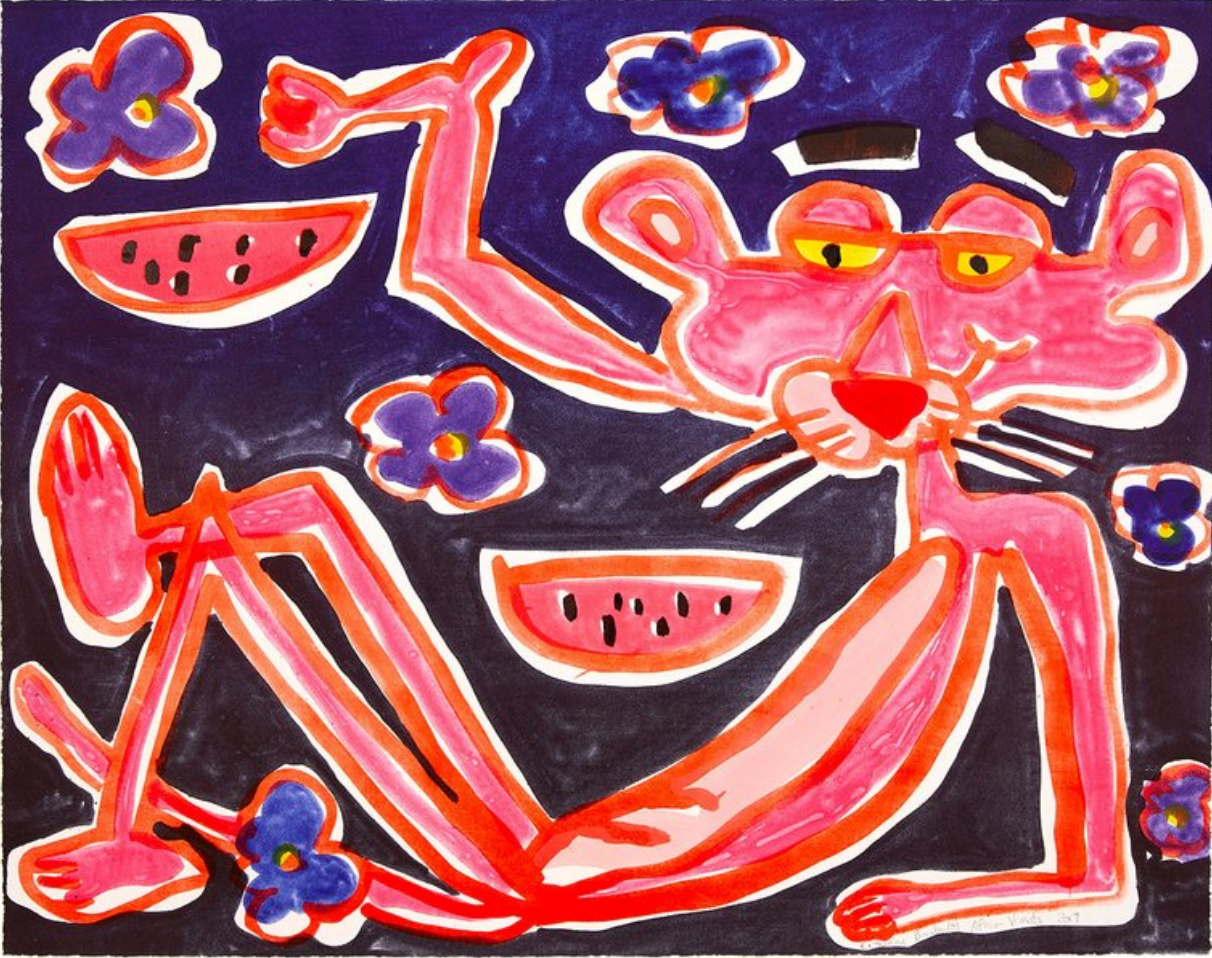 The Pink Panther & I - Katherine Bernhardt's Pink Panther
Welcome to our ONLINE Store  & blog.
We are a design company which designs and manufactures our own products. Every Friday we take you for a peak behind the scenes to the things, people and places that inspire us.
Original Movie Poster of Blake Edwards' The Pink Panther 
This week we take you way back to a "coming of age story" of my own and my falling in love with "The Pink Panther". Was it the spring in his step ? Was it the colour of his coat - PINK - or most importantly and most probably was it Capucine and Claudia Cardinale, playing Indian Princess Dala, who jettisoned my imagination floating on the notes of the amazing Henry Mancini. 
Italian Actress Claudia Cardinale Playing Indian Princess Dala in The Pink Panther
In school in Switzerland we were just a 6 hour stone throw from Cortina d'Ampezzo where, in my dreams, I would teleport myself to the ski resort. My flair from always being different made me so "unique" I was placed in the girls dormitory with my older sister where she took care of me while I dreamed of luxury and beauty worlds away from, my equally glamours home of Montego Bay Jamaica while watching the movie over and over and over again. 
Katherine Bernhardt, Spaceage, 2019. Acrylic and spray paint on canvas.
A young gay boy's dreams were bathed in pink luxury from Jamaica to our Pink bathroom in our London apartment to Swiss school and back. My secret love for every thing Pink Panther followed me throughout my childhood to my very own pink bedroom  here in Miami having moved from New York City. 
Nike Panther, 2019
It was so logical that when I came across Brooklyn artist Katherine Bernhardt's  Pink Panther paintings I was transported back to my childhood with her paintings style evoking the florescent highlighter markers we used in the 80's in school to the Wham "Wake Me Up Before You Go Go"  music video and I fell in love with all her paintings. 
Artist Katherine Bernhardt at work 
She tells the story of a recent trip to Hawaii staying at the Pink Palace Hotel in Waikiku, the artist Katherine Bernhardt and her eight-year-old son, Khalifa, were lounging on a pink bed, eating pink pancakes, and watching—what else?—The Pink Panther Show.
 The Pink Panther 
 Her Pink Panther series, a group of seven colorful canvases that center on The Pink Panther Show's titular protagonist, were just that on view in a solo exhibition at Art Omi in Ghent, New York in 2019 .
Splashily rendered in every shade of pink, from bubblegum to mauve, the beloved cartoon character is depicted beside illustrations of Scotch Tape, Star Wars characters, cigarettes, and toilet paper—all motifs from earlier works in Bernhardt's oeuvre. The figure is outlined with Champagne-colored strokes that give the exhibition its name: "Gold."
Installation view of "Katherine Bernhardt: Gold" at Art Omi in Ghent, New York, PHOTO: BRYAN ZIMMERMAN
"It was a way for me to get back into figure painting," Bernhardt says. "Then I mixed that with the pattern-like work."
Bernhardt first got attention for her portraits of famous fashion models, which she showed at Canada Gallery in New York in 2008. But it's her more recent "pattern paintings" for which she is best known.
In 2014, her show at Canada, "Stupid, Crazy, Ridiculous, Funny Patterns," featured paintings with unexpected subjects like hamburgers, cassette tapes, tacos, and watermelon slices rendered in patterns inspired by African textiles.
Thumbs Up from Katherine Bernhardt's Pink Panther 
While glamour has been replaced by harsh reality pre covid and more importantly during covid at least seeing and pining after Katherine's paintings harkons me back to my halcyon days where songs had real lyrics, where composers like Henry Mancini's notes would carry you on the winds giving oxygen to dreams and where we and the world were more naive and more beautiful. 
We hope you look up Katherine Bernhard's work and check out our melamine collection equally as colorful and happy!
HAPPY WEEKEND ! 
Michou