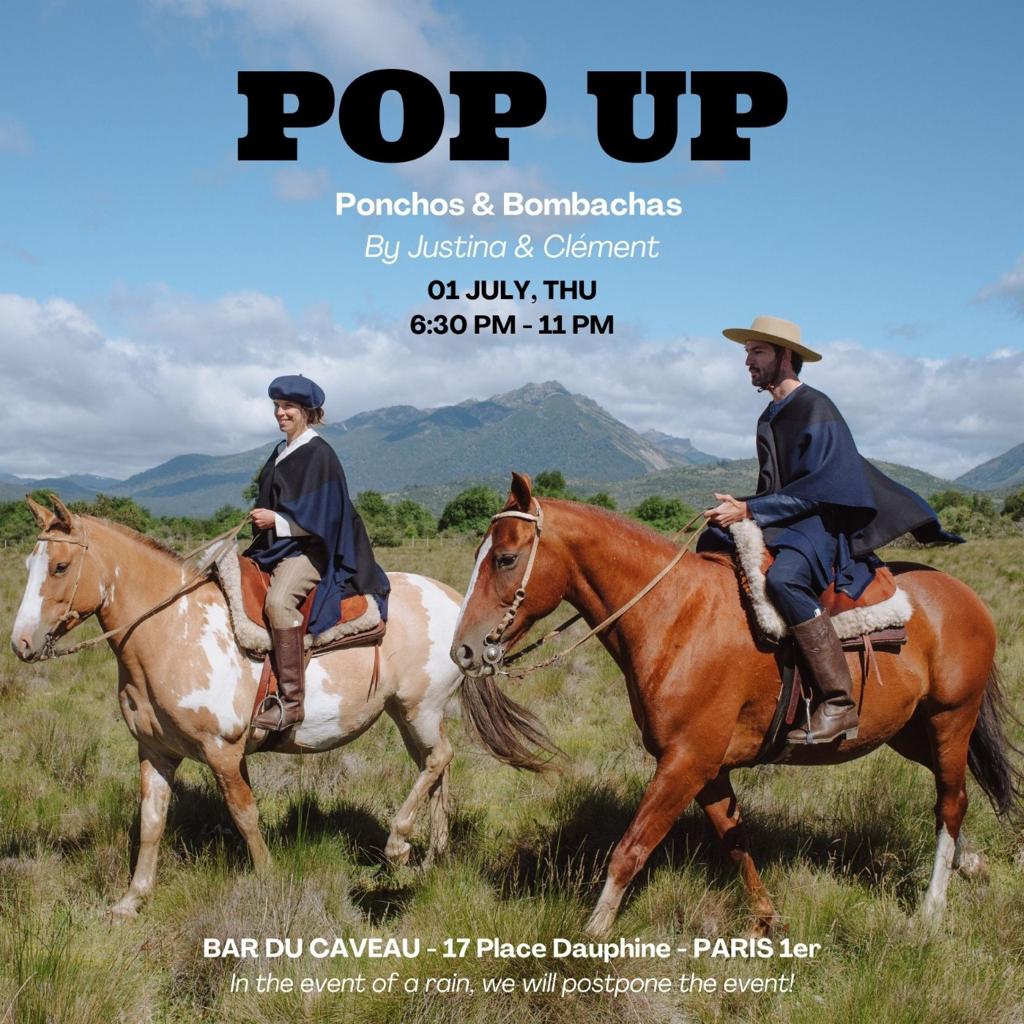 Paris Pop Up "Ponchos & Bombachas" by Justina & Clément July 1st 2021 6:30pm - 11 pm
Welcome to our blog and ONLINE Store. 
As a barware, home goods and design company we at Thomas Fuchs Creative give you behind the scenes to the people, places and things that inspire us. This week we give you all 3 wrapped into one Pop Up Shop in Paris, France. 
People: Clément & Justina
Place: Bar Du Caveau - 17 Place Dauphine - Paris 1er
Things: Chic Outerwear to take you into Fall or on a plane or just because
Justina & Clément - Splendor in the Grass donning pieces from their collection
I had met Clément on his trip to Miami pre coivd  at my BFF Art Curator Gabrielle HB Abada place and was so impressed by nis nonchalant elegance combined with humour and handsomeness.
His and his then Fiancee Justina, now wife, had decided to go into business together which immediately resonated with both Thomas and I being too a creative couple and admiring the unique synergies and thoughts processed together and separately by a couple working in love and for love of what they bring into focus in a combined 20/20 vision.
Justina & Clément Vogue Magazine Feature
What is even more impressive is that Vogue profiled their wedding sealing themselves as international tastemakers.
While we all strive to do what we love and love what we do and make a living from it, Thomas and I having been too profiled in 3 Vogue Magazines internationally can attest to the validation, accomplishment and what it means to a business's bottom line. 
"À mesure que l'on s'enfonce vers le Sud, le froid; l'isolement, resserrent mieux les hommes", wrote Saint Exupéry when he discovered Patagonia for the first time while opening routes for the Aeropostale airline.
Poncho Magic by the couples luxe cotton Ponchos that take you from the Fields to the Plane
Clément landed in Argentina in november 2011 he had seen many landscapes and experienced different cultures throughout these 10 years and had Justina in Buenos Aires in 2016. And six months later, she introduced him to Patagonia.
Justina taught me how to use "bombacha" pants; gabardina for horse riding, linen for lunch and wool for dinner. I also learned how to use the "poncho"; anywhere, anytime.
The Couple Dressed in Their Collection 
"Today, we want to share with you our love for the traditional gaucho outfits. We curated a unique collection of linen and wool bombachas as well as merino wool and cotton ponchos."
 Luxury combines windswept breathtaking  landscapes 
These pieces, Clement explains, come from two centenaries textile houses from Argentina; Aux Charpentiers's bombachas since 1888 and Ayma Maison Borel's ponchos since 1894.
We implore you stop by this coming Thursday July 1st. To be in the know before this brand even has a website you are getting 1st hand insider behind the scenes information. Should you not be able to make it send all your friends who happen to be either on their way to Paris or in Paris.
People: Clément & Justina
Place: Bar Du Caveau - 17 Place Dauphine - Paris 1er
Things: Chic Outerwear to take you into Fall or on a plane or just because