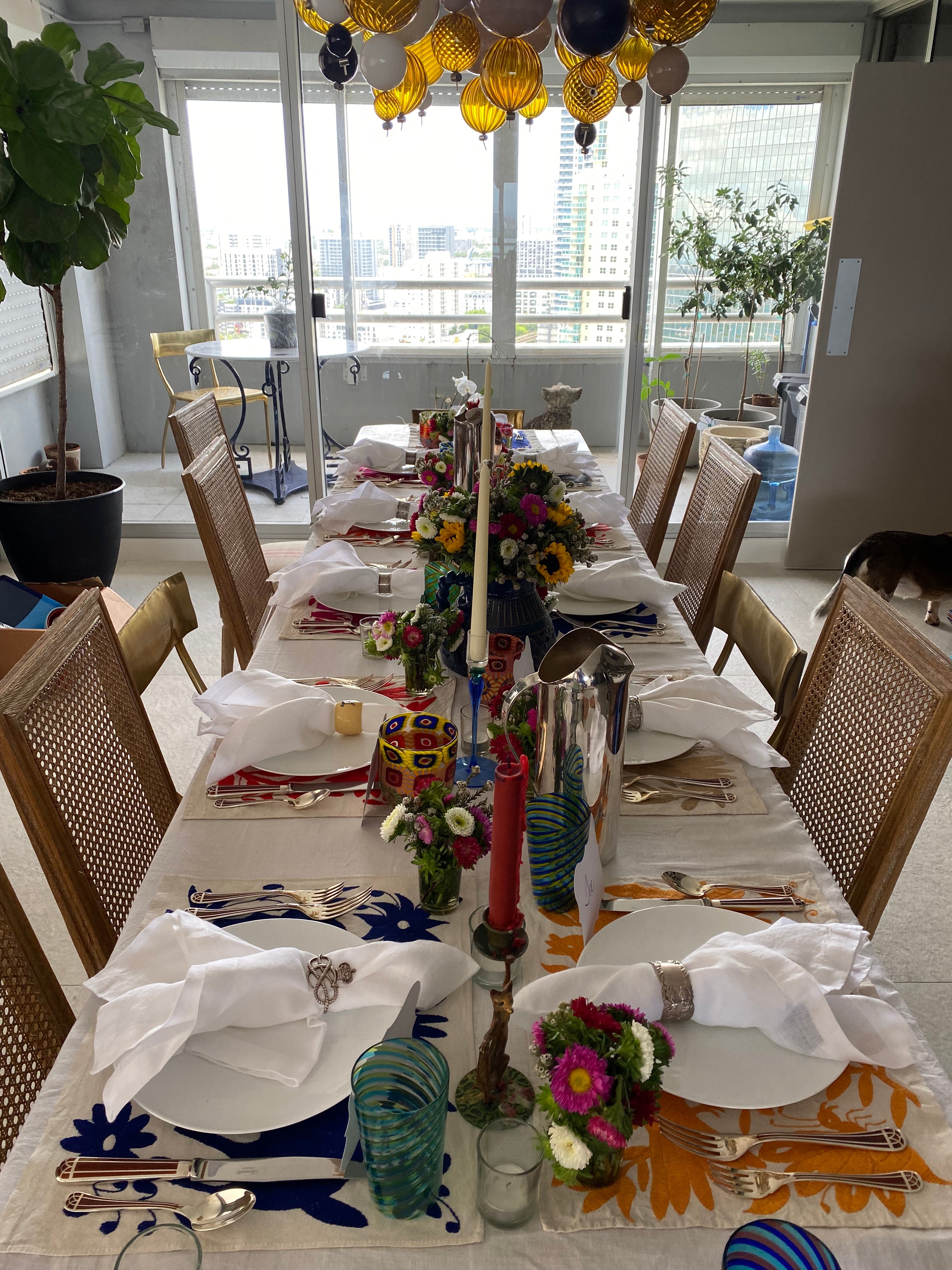 HOW TO BE INSPIRED BY A WORK TRIP AND CELEBRATE THE CULTURE VIA YOUR TABLETOP WHEN YOU COME HOME!
Michou & Thomas in The Four Seasons Hotel elevator ready to hit the road
Welcome to our blog and ONLINE Store! 
Every week we take you behind the scenes to the things, people and places that inspire us. This week we are just back from a whirlwind trip to Merida and Mexico City where we launched our brand to big fanfare in Vogue Mexico Magazine. 
Thomas Fuchs Reaction to his April 2021 Vogue Mexico debut 
After a great day of holding all our press meetings at the hotel we were able to escape to the famed Mercado De Artesanias Ciudadela where Thomas fell in love with the renown #handwoven placemats and tablecloths. Being on a budget we opted for a set of 12 placemats carefully choosing each pattern and colour we know would suit our home interiors and colourscapes. 
Ciudadela Market in Mexico City 
Now comes the fun part when you get home unpack your bags and look at the goodies you bought at the market and see if you indeed did make the right colour choices. Below I will give you short steps I took to layer the Table. 
Step 1 
We had a great reason to use these immediately as Thomas' cousin Debbie Harner just graduated with a Masters in Social Work from Penn University. I took the mats out and realized the colours were not popping on our wooden 12 ft. dining table so I used a white Pratesi linen bed sheet I had as it mimicked the texture of the background cloths of the embroidered matts. 
Step 2
I used our Bernardaud dishware that was gifted to us by Thomas' parents on our Bloomingdales Bridal Registry which also has a soft timeless linen pattern imbedded in the design named "Organza Coupe Dinner Plate"
Step 3
I zoomed over to our local flower supply Berkley Flower Supply here in Miami and picked out colours of flowers that matched the placemats.
Step 4 
To marry the old world French handmade goods with the Mexican Handmade goods I used our Christofle Flateware a wedding gift from my mother to us to juxtapose the fine art and form against a more free hand embroidery. 
Step 5
I choose our Thomas Fuchs Creative handblown murano glasses. Each of those glass rosests you see is a separate and blown piece with specific chosen colours then laid on a table and rolled into one glass piece. I picked these as they echo the colours in the place mats.
Step 6
If you are a collector of drinking glasses as we are (wink) then always try to mix and match your glasses on the table in even number. Since we were 14 people I did 7 of the Glass above conbined with 7 of these stunning Thomas Fuchs Creative Candy Glasses where the rods of glass are laid on a table in a grid pattern then picked up by molten glass and blown into one piece.
Step 7
I always go to Michaels Art Supply and buy name card to have on I have my handy Sharpie Pens on hand to pick contrasting colours to play of the placemat colours.  
Step 8 
I added some whimsey to the table by using a mixture of votives from Michaels Art Supply and candle sticks here I used our Ms. Frog & Mr. Fox (Fuchs in German is Fox) that we picked up along the way at a NYC Flea Market in the good old days to play off the animal embroidery in the matts. 
Step 9 
Ask your guest to send you their pics here Charlotte Picard of Doyle NYC and her husband D. Kelly Picard Inc where in town to celebrate with us and took this stunning pic of their place setting as well at the below aerial shot. 
Aerial Photo
and last BUT definitely not least what happens when Michou has wash all the dishes I have to do Step 10.... CLEAN ALL THE DISHES and flatware by done by hand... 
Step 10 
to only be distracted by an impromptu dance party in our kitchen with Pet Shop Boys "Westend Girls" on full blast taking us back with Charlotte and Thomas donning rings that light up like a disco to add to the moment.
 Stop and smell the roses and smile and hug your loved ones.
Michou