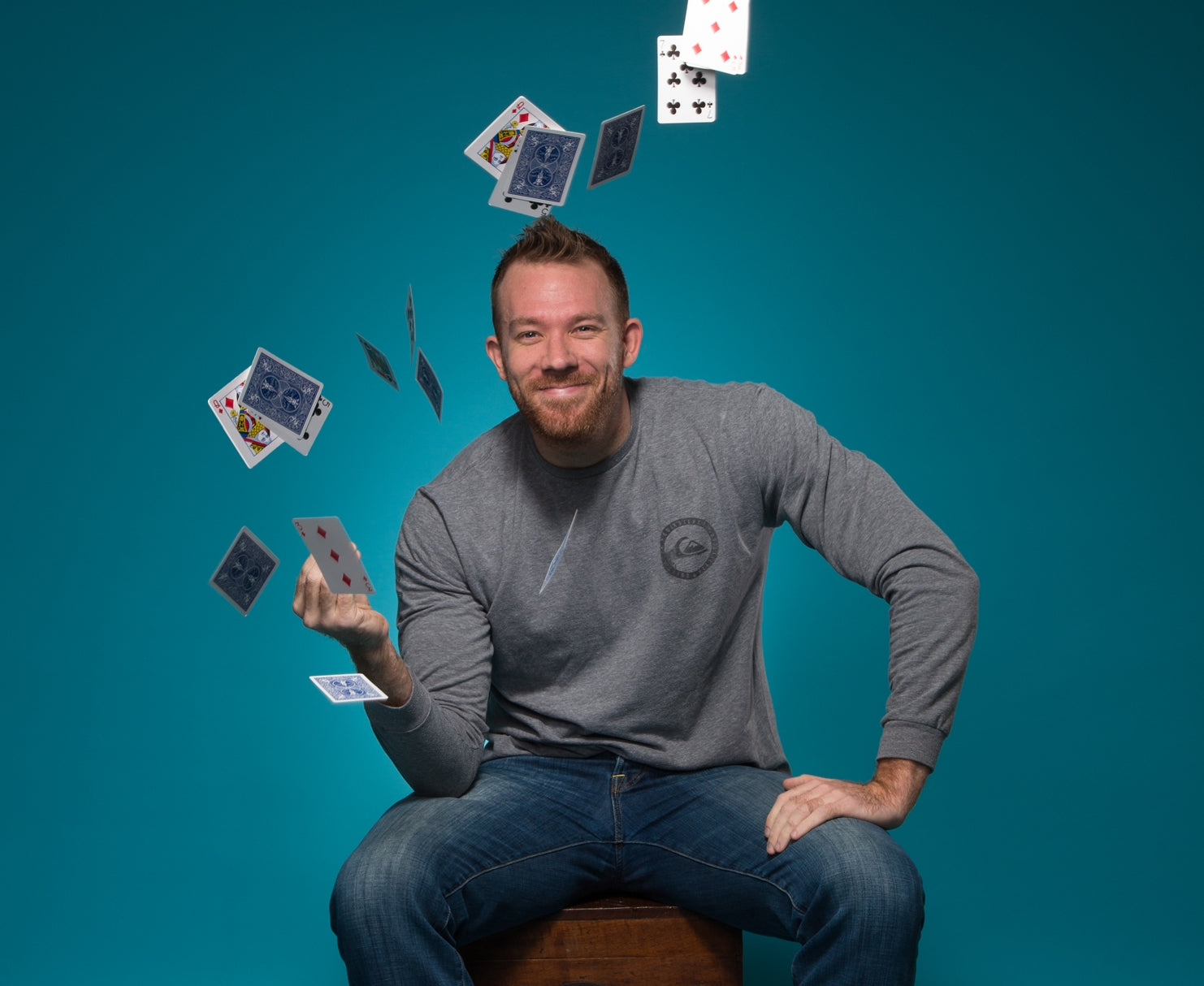 Nelson Preps "Spaghetti Aglio E Olio" from Goodfellas
Nelson Dellis is a world renowned memory athlete, author and mountaineer, to name a few. The self-trained memory athlete was inspired to sharpen his mental acuity after witnessing the decline of his grandmothers memory due to Alzheimers disease. His Youtube channel as over 44K subscribers and his tips for increasing memory have made Nelson a crowd favorite.
Nelson is also an avid foodie and does not shy away from showing it! We reached out to him to learn more about the relationship between his mind and his stomach. 
1. Does your wife love your cooking as much as you do?
          a. She Better! Haha. I'm pretty sure she does, though most of our go-to weekly meals are some recipes i've been cooking for years
2. Is your wife as good a cook as you are?
          a. She's a great cook, but i'd say she's an even better baker. She makes these KILLER Nutella, browned-butter cookies that I beg her to make on a weekly basis. She usually obliges.
3. What are some of your favorite dishes to cook that are under an hour
          Oh man, we have a few on rotation these days (since time is limited when caring for a 1 year old).
          a. Spaghetti Squash Pizza Pasta- Using some Italian spicy sausage, Rao's marinara sauce, onion, butter, oregano and then some baked spaghetti squash for noodles. This dish is done in 10 minutes once the squash is baked BLANKET IT in parmesan, and it's good too. Best of all it's super low-carb. 
           b.  Breaded Chicken Tenders + Kale Caesar - The breading is a Keto from 
KetoConnect
 (using pork rinds and a bunch of herbs) and the caesar dressing we stole from a Blue Apron meal years ago (it's mayo, vinegar, garlic, and parm). 
           c. Ina Garten's Lemon Parmesan Chicken - Go 
HERE
 and learn the recipe. It will change your life.
                       I. A side note. We do occasional 30-day stints of Keto here and there, so we know a lot of Keto recipes. I only mention them here because they are THAT good. We make these meals even when we aren't on Keto.
4. Memorizing recipes or scaling mountains which are you more talented at?
          a. Definitely mountain climbing. Being a high-level chef is of course very hard, but I don't think it's too difficult to cook well as long as you make the effort. Mountain climbing, on the other hand, is challenging; no way around it
5. Who are some of your top chef's that you admire
          a. Anthony Bourdain and all the no-name chefs behind my favorite Pizza joints in New York in Boston (where I used to live).
6. Sweet, salty, spicy or all 3?
          a. Sweet. I've got a horrendous sweet tooth. Thank goodness I'm tall and skinny.
7. What's your go to drink while you cook?
          a. You're going to laugh at me, but I don't drink that much. And less likely when I'm cooking. I'd probably just have a sparkling water.
8. Apron or no apron?
          a. What's an apron?
9. Whats your fav American dish to cook
          a. Pizza. For my 33rd birthday, my wife and I did a pizza making course in NYC at a pizza school. Everything from scratch: dough, sauce, the whole shebang. I love bread, and I love pizza. And I love more than anything to make them.
10. How has having Axel (your son) changed your cooking and/or how often you cook?
          a. I thought we would cook less, but we actually cook more. But we definitely have learned how to speed up the process and be more efficient with food prep. 
11. What's your fav non-American dish to cook
           a. I thought we would cook less, but we cook more. But we have learned how to speed up the process and be more efficient with food prep.
12. Red wine, white wine or tequila?
           a. Red wine, if choosing from those three. Otherwise, Irish Whiskey.
13. Is the stomach really the way to a man's heart?
           a. Yes, it is! Leah baked for me from day one of us being together and that's probably why we're still married today!