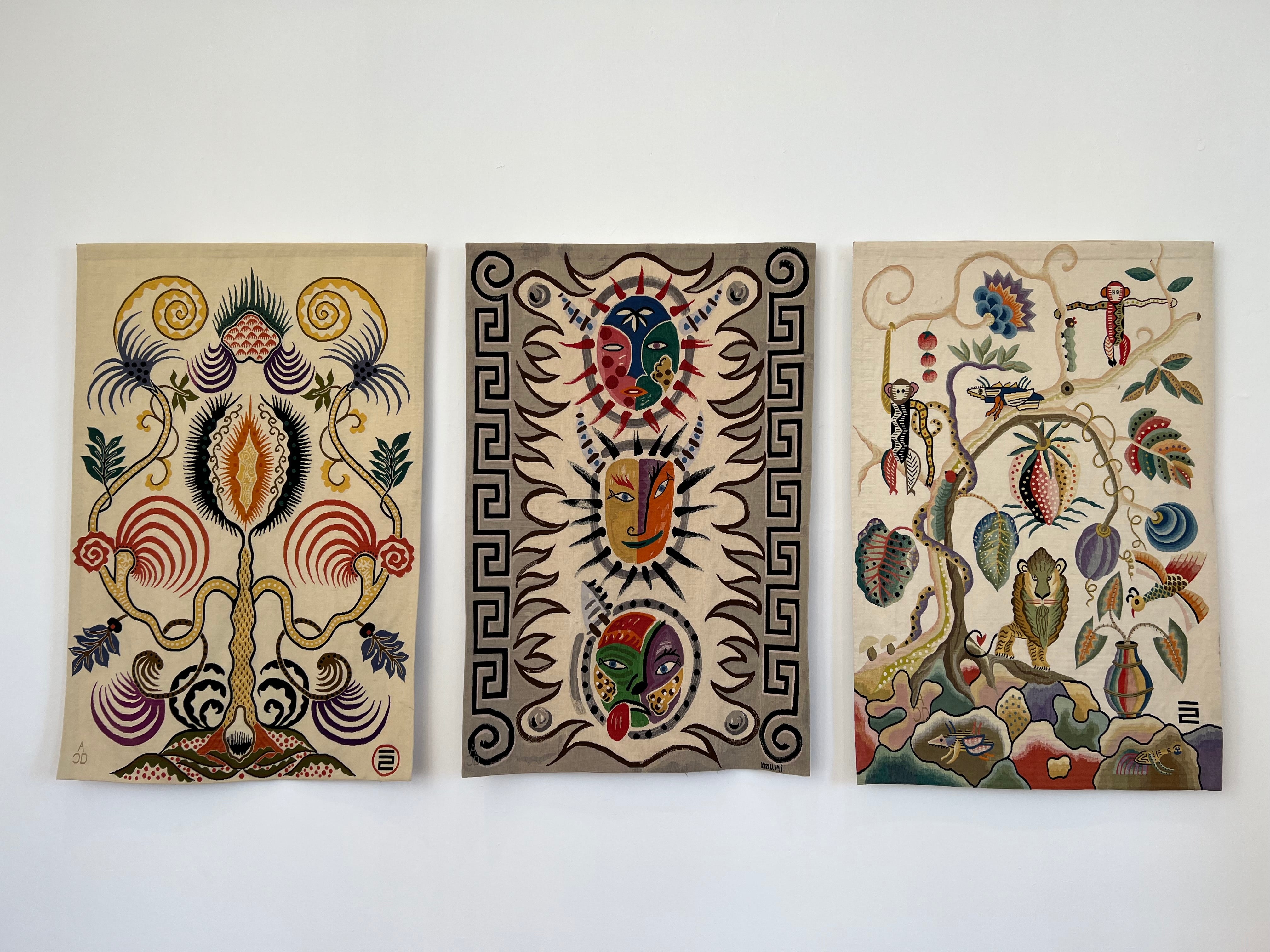 POSTCARD FROM PALERMO - KAZUMI YOSHIDA "SICILIA AMORE MIO" FROM NYC TO SICILY
Welcome to our ONLINE STORE  and blog. 
As a barware, lighting and  home accessories design company, we at Thomas Fuchs Creative specialize in handmade goods. Every week we give you behind the scenes to the people, places and things that inspire us.
We are still in Palermo Sicily for our secret upcoming collaboration and are penning our experiences and travels via our blog here on our site and via instagram account @Michou.de.Brickell and @StudioThomasFuchs. 
Yoshida, Thomas & Georgie
As we mentioned in our prior blog before this one, it took no time in driving from Rome to Sicily to dropping our bags at the hotel and hitting the streets walking everywhere. Thomas clocked our steps on the 1st day with a record 15K steps through Palermo via his iphone health app. 
As art enthusiasts our eye catches anything in the streets announcing any type of art fair or exhibition. As the Japanese are at the forefront of art and culture my eye caught posters of Kazumi Yoshida's face on magazines and posters all over town. 
That same night at dinner our hosts wife Georgie, an equal art lover, mentioned there was a show she would love to take us to if we were interested. We mentioned we have seen the posters. The irony of it all is Kazumi is from the Tribeca neighbourhood in New York City. 
PALERMO - It is the place of the imagination par excellence, the one that contains all the desires of harmony and beauty: Utopia by the artist Kazumi Yoshida , one of the most famous contemporary designers in the world, takes shape in Palermo as the first major anthology of the master in Italy . Curated by Paola Nicita , the solo exhibition opens at Loggiato San Bartolomeo , one of the exhibition spaces of the Sant'Elia Foundation, organized by MLC Comunicazione di Maria Letizia Cassata; and with the technical partnership of Antonio Ratti Foundation, Hermès, Villa Igiea Palermo - Rocco Forte Hotel, Academy of Fine Arts of Palermo.
Art director of Clarence House in New York, an international reference point for design, Kazumi Yoshida chose Palermo because he was fascinated by its art, nature and architecture: many of the works on display are unpublished, and some of the tapestries and paintings have been specially created in homage to the city of Palermo. A personal reflection for a renaissance of art and humanity. In particular, the great painting that gives the exhibition its title was created by Kazumi Yoshida in New York and completed in Palermo, in collaboration with the students of the Academy of Fine Arts , for a multi-handed work that is a heartfelt tribute to vitality and the dream that the artist perceived while visiting the city.
His paintings and sculptures have been included in numerous shows throughout the United States, Europe, and Japan. His work has been featured in many publications including Vanity Fair, Interior Design, House & Garden, Traditional Home. 
Kazumi Yoshida's new series of works renew the artist's spring boldness while capitalizing on his trademark charm and sophisticated insouciance. Amongst the several series, the artist continues to lean into negative space, pushing further what he can contemplate and articulate in his newfound spaces. The Menagerie series elicits a humor and spontaneity while remaining grounded in the artist's structured compositions. Yoshida's sculptural approach to portraiture allows ideas to emerge from his spry visual consciousness as he masters and re-masters color, form, and space within his wild narratives.
In recent work, Kazumi delves wholly into exploration of space: space as texture, and space as feeling. The works belay classic minimalism, and are neither severe nor strident: they are pared down worlds, created to be entered as chambers and cities, hopeful in their blankness.
Kazumi has just come out with a line of exclusive cashmere-and-silk shawls, which are based on the designs of his joyous paintings and drawings. The shawls are the latest incarnation of a gifted life of an artist whose expressions have taken many forms, including paintings, drawings, sculpture, assemblage, collage, décor, and textile design. Kazumi's shawls encompasse the arc of timeless tradition reborn as edgy and avant-garde. Each shawl, which replicates a painting or drawing, is a wearable work of art that represents Kazumi's witty originality and brilliant craftsmanship.
The wearer is nourished visually and tactilely by a subtle synthesis of art reminiscent of the colorful geometrics of Sonia Delaunay or Leger, the boldness of Japanese Zen, and the delicacy of Italian Baroque. Each shawl is the product of Kazumi's daring imagination, and evokes both fine and decorative arts imbued with a sensibility that revels in paradoxes: his is an insouciant yet sophisticated aesthetic that is at once regal and fun, high-end and amusing, simple and opulent, which beautifully translates into these cashmere shawls. The shawls are made of 70% cashmere and 30% silk, and are silkscreened in Italy. Whether linear monochrome or splashy abstraction, each shawl encapsulates the artist's creative exuberance.
Invitation to Book Signing at Hermes, Palermo Sicily
The next morning before leaving Palermo we headed to Hermes, as seen in the video below, for the book signing of Kazumi's new illustration book.
Kazumi has created a signature style of figuring ease and naturalism into contemporary pieces. The artist's distinct aesthetic has also been notably realized in textile, Kazumi has created Hermès luxury items in partnership with the esteemed French brand for several years.
The saying "being at the right place at the right time" could not apply more perfectly as while at Kazumi's exhibit we ran into another artist who is represented by renown gallerist Gloria Porcella of Ca' d'Oro of Rome, New York and Miami who is a very close friend of ours. Calling her in that moment on Facetime connected all the dots and proved we were in the right place at the right time.
Hermes, Palermo Italy Kazumi Yoshida Book Signing
As we enter into Salone del Mobile in Milan this week we wanted to give you a prelude to all art all over Italy.  
Thomas & Georgie Rooftop at the Museum
Thomas, Georgie and I toast you from the rooftop of the Museum in Sicily.
Have a great weekend!
Michou