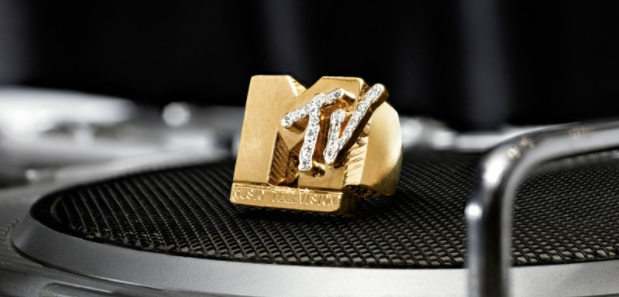 I WANT MY MTV -FAB 5 FREDDY'S LEGENDARY GOLD AND DIAMOND "MTV" RING GOLD AND DIAMOND RING, CA 1988 On Sale at Soethby's
Hip Hop Legends Depicted In Awesome Illustration 
Welcome to our blog and online store.
Each week we showcase people places and things that inspire us. This week we highlight Sotheby's being avante garde as usual with their upcoming online auction on September 15th, 2020. 
Sotheby's is honored to announce an auction celebrating the history and cultural impact of Hip Hop on 15 September in New York. The first-ever dedicated Hip Hop auction to be presented at a major international auction house, the sale reflects on the impact Hip Hop has had on art and culture from the late 1970s through the "Golden Age" of the mid-1980s to mid-1990s, and up to the present.
Featuring over 120 lots, the auction is comprised of unique artifacts, contemporary art, one of a kind experiences, photography, vintage and modern fashion, historic and newly designed jewelry and luxury items, rare ephemera including flyers and posters, important publications, and more. The majority of items on offer in the sale have been consigned directly by artists or their estates and the full contents of the auction will be announced at a later date.
The auction was curated and organized by VP, Senior Specialist Cassandra Hatton in collaboration with Monica Lynch, former president of Tommy Boy Records (1981-1998) who helped launch the careers of legends Afrika Bambaataa & Soulsonic Force, Queen Latifah, De La Soul, and Naughty by Nature, among many others.
FAB 5 FREDDY'S LEGENDARY GOLD AND DIAMOND "MTV" RING
GOLD AND DIAMOND RING, CA 1988
15 September 2020 • 6:00 PM EDT • New York20 round diamonds weighing approximately .50 carat
Gross weight approximately 48 dwts
Ring size approximately 12 ¼
ONE OF THE MOST FAMOUS AND UNIQUE PIECES OF HIP HOP JEWELRY - FAB 5 FREDDY'S GOLD AND DIAMOND "MTV" RING
At the time that Yo! MTV Raps! burst onto the scene in 1988, the style in jewelry was thick gold rope necklaces, crosses, heavy medallions, Mercedes logos and the like, but the shows's host, Fab 5 Freddy, wanted a piece that was totally unique, so he decided to design his own. To create the piece, Freddy worked with Tito the Jeweler, aka "Manny", the first Hip Hop jeweler, who had built up a loyal following, creating custom over-the-top pieces for drug dealers and pimps in the 1970s. Eventually, all the big Hip Hop stars became his clients, including Rakim, Salt-N-Pepa, Biggie, LL Cool J, and of course, Fab 5 Freddy. 
Fab 5 Freddy, is a visual artist, filmmaker and Hip Hop pioneer. In the late 1970s, he was a member of the Brooklyn-based graffiti group, the Fabulous 5, who specialized in painting the sides of subway cars. His name was first introduced to the pop culture scene when Blondie name-checked him in her 1980s hit "Rapture", saying "FAB 5 FREDDY told me everybody's fly." He went on to play a pivotal role in bridging the gap between the early rap and graffiti scene of New York's uptown, and the punk music and art scene of downtown. He would go on to co-produce the legendary film Wild Style with Charlie Ahearn, and hosted the wildly popular MTV show Yo! MTV Raps.
A portion of Sotheby's proceeds will benefit the Queens Public Library Foundation, to support their Hip Hop Programs, coordinated by "Uncle" Ralph McDaniels, as well as Building Beats, a non-profit community organization that teaches tech, entrepreneurial and leadership skills to underserved youth through DJ and music programs.PROVENANCE:
Courtesy Fab 5 Freddy