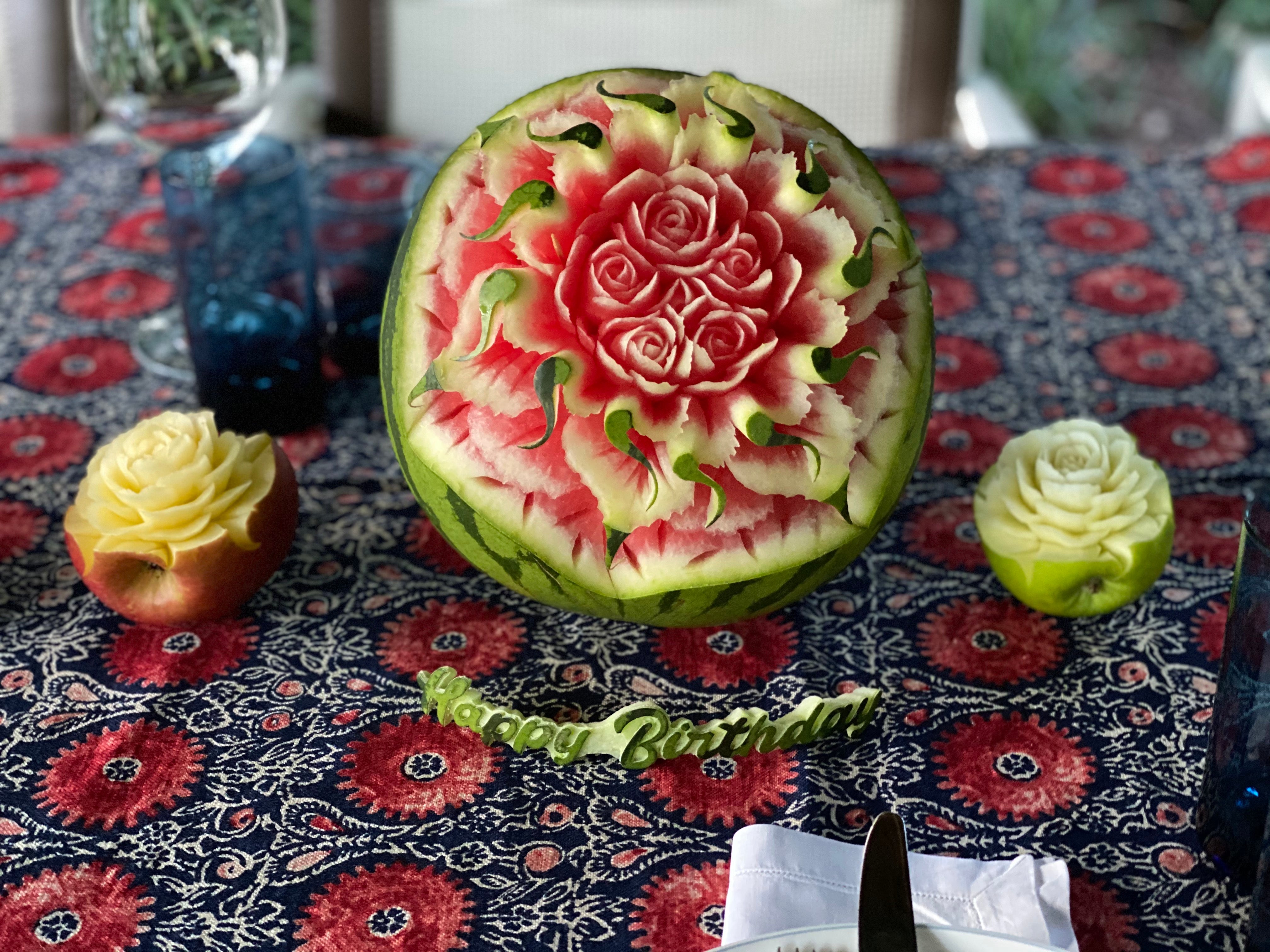 Carving A PATH OUT FOR HIMSELF IN MIAMI FOOD ARTIST TOMAS VIDA SHOWS US HOW IT'S DONE
Welcome to our ONLINE STORE and blog.
Once a week we take you behind the scenes to the people, places and things that inspire us. Being that we are a homeware design and manufacturing company it is only fitting that we at Thomas Fuchs Creative would be inspired by Tomas Vida.
Tomas came to Miami after an extremely successful career Eastern Europe teaching in culinary schools, hosting morning cooking segments on national television shows and catering events, he grew tired of winters and fled to the sunshine state. 
A Miami Influencers Birthday Party Under a Palapa
As he tells us the story of fruit and vegetable carving begins about 700 years ago in Sukothai, the capital of the Tai people, in what is now the north of central Thailand. Sukothai was the capital of the region from 1240 – 1350. In preparation for one of their major festivals, LoiKratong, one of the King's servants, called Nang Noppamart, tried to think how she could make her Kratong more beautiful, in order to please the king.
She took a flower and used it as a pattern to carve from. She then carved a bird and set it with its head pointing towards the flower. LoiKratong is still celebrated today and Sukothai is one of the best places in Thailand to experience it.
Our Thomas Fuchs Creative Indoor/Outdoor Melamine Goes Great with Fruit and Cheese 
Fruit and vegetable carving is also mentioned in the poetry of King Rama 2 who reigned from 1808-1824. He wrote about the beauty of Thai desserts and fruit and vegetable carving.
Carved Apples in the shape of Roses

After the revolution in 1932 fruit and vegetable carving became less popular. Those worried about the art disappearing set up a course to train people to teach the art to everyone in Thailand.
@CarvingFruitMiami Gift for Designer @VictoriaBeckham 's Miami Birthday Party
Today it is taught from the age of 11 in primary schools through secondary school and on to university where it is an optional subject. The art is now being passed to foreign people and is being practiced around the world. It is particularly popular with chefs who use it to improve the presentation of their food.
New Candle Line by Tomas Vida @CarvingFruitMiami
Tomas is a versatile artist not only limiting his skill to food but going beyond to create his own candle line which he intends to incorporate into large dinners where the table will be set a blaze with his unique candles that also function as the perfect gift. 
We wish you a lovely weekend leaving you with a sweet taste in your mouth.
Tomas's Instagram: @CarvingFruitMiami
Have a lovely weekend,
Michou