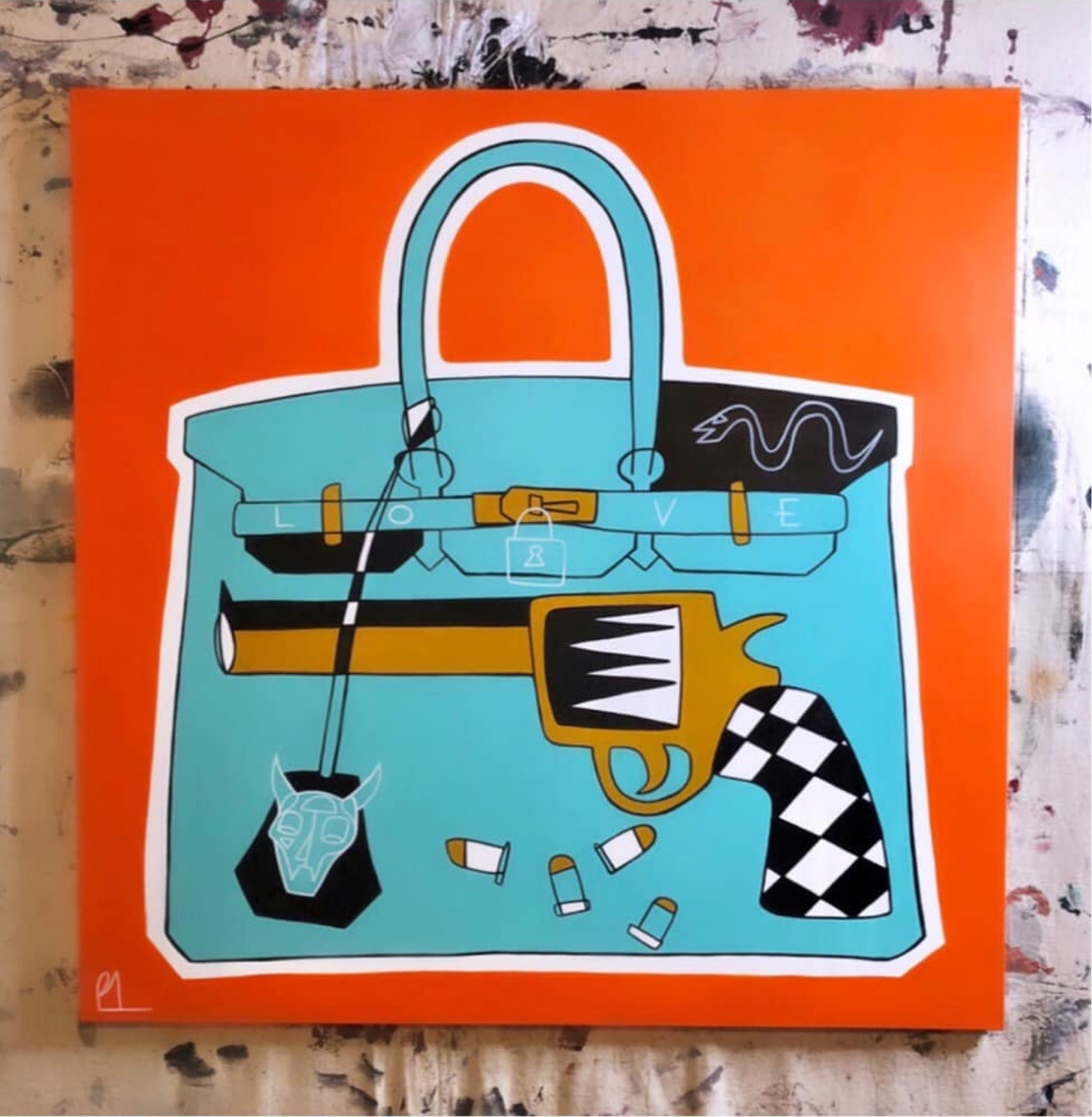 Welcome to our blog and online store.
As a barware, lighting and  home accessories design company, we at Thomas Fuchs Creative specialize in handmade goods. Every week we give you behind the scenes to the people, places and things that inspire us.
This week we introduce you to artist Parker Turner. While scrolling through instagram looking for the perfect holiday gift I came across his artwork featuring the Hermes Birkin Bag 2.0 paintings.
Parker Turner's "Birkin Bag Bandit" 48x48 on canvas
The iconic Hermes Birkin Bag has been such an inspiration to so many people. The shape alone of the bag exudes class a statement a lifestyle and beyond. Turner whose paintings take the Iconic shape and bring it current with a X-Ray look inside the bag invoking  Vogue's online series "In The bag".  
Kylie Jenner with her Birkin Bag on Vogue's "Whats In My Bag" series
Thierry Hermès was born in Krefeld, Germany, to a French father and a German mother. The family moved to France in 1828.[4] In 1837, Hermès first established a harness workshop in the Grands Boulevards quarter of Paris, dedicated to serving European noblemen.[5][6] He created high-quality wrought harnesses and bridles for the carriage trade,[7] winning several awards including the first prize in its class in 1855 and again in 1867 at the Expositions Universelles in Paris.[7]
Parker Turner's "Birkin Bag Bandit" 48x48 on canvas
Hermès's son, Charles-Émile,[4] took over management from his father in 1880 and moved the shop to 24 rue du Faubourg Saint-Honoré, where it remains. With the help of his sons Adolphe and Émile-Maurice, Charles-Émile introduced saddlery and started selling his products retail.[7] The company catered to the élite of Europe, North Africa, Russia, Asia, and the Americas. In 1900, the firm offered the Haut à Courroies bag, specially designed for riders to carry their saddles with them.
In 1924, Hermès established a presence in the United States and opened two shops outside of Paris. In 1929, the first women's couture apparel collection was previewed in Paris.[4] During the 1930s, Hermès introduced some of its most recognized original goods[5] such as the leather "Sac à dépêches" in 1935 (later renamed the "Kelly bag" after Grace Kelly) and the Hermès carrés (square scarves) in 1937.[5]
Princess Grace of Monaco w/ Prince Rainier of Monaco and Her "Kelly Bag"
In 1984, Hermès chief executive Jean-Louis Dumas was seated next to Jane Birkin on a flight from Paris to London. Birkin had just placed her straw travelling bag in the overhead compartment for her seat, but the contents fell to the deck, leaving her to scramble to replace them. Birkin explained to Dumas that it had been difficult to find a leather weekend bag she liked.[7]
Iconic Actress Jane Birkin w/ her Hermes Birkin Bag
Jane Mallory Birkin, OBE (born 14 December 1946) is a British[1][2] singer, songwriter, actress and former model. She attained international fame and notability for her decade-long musical and romantic partnership with Serge Gainsbourg. She also had a prolific career as an actress in British and French cinema.
A native of London, Birkin began her career as an actress, appearing in minor roles in Michelangelo Antonioni's Blowup (1966), and Kaleidoscope (1966). In 1968, she met Serge Gainsbourg while co-starring with him in Slogan, which marked the beginning of a years-long working and personal relationship.[3] The duo released their debut album Jane Birkin/Serge Gainsbourg (1969), and Birkin also appeared in the controversial film Je t'aime moi non plus (1976) under Gainsbourg's direction. Birkin would attain further acting credits in Agatha Christie's films Death on the Nile (1978), and Evil Under the Sun (1982).
Dumas took this encounter as inspiration to create a supple black leather bag, based on an earlier design, the Haut à Courroies, which Hermès had created around 1900.[8][9]  Since the late 1980s, the bag has become a status symbol, though it has become much easier to purchase due to aftermarket resales.[2]
Pharrell Williams w/ His Purple Crocodile Birkin Bag
Even Rapper Pharrell Williams has helped transition the Bag for all sexes ! I have a travel bag myself (that my bff renown French Art Curator Gabrielle HB Abada's Husband Gifted Moi).
If you can't and won't spend the dolllllas for an uber gift not to mention a waiting list that is probably 5 years long the best way to acquire your Hermes Birken Bag is to get a painting from Parker Turner hang it on the wall and make it your vision board for 2022! God knows we all need one! 
Parker Turner's Birkin Bandit Bag
For the youth who need to be schooled in "OG" originality, I have provided below the iconic song by Jane and Serge Gainsbourg , parents of Charlotte Gainsbourg, below!
 @parkerturnersart on Facebook
@pakerturnersart on Instagram
Happy Xmas,
Michou