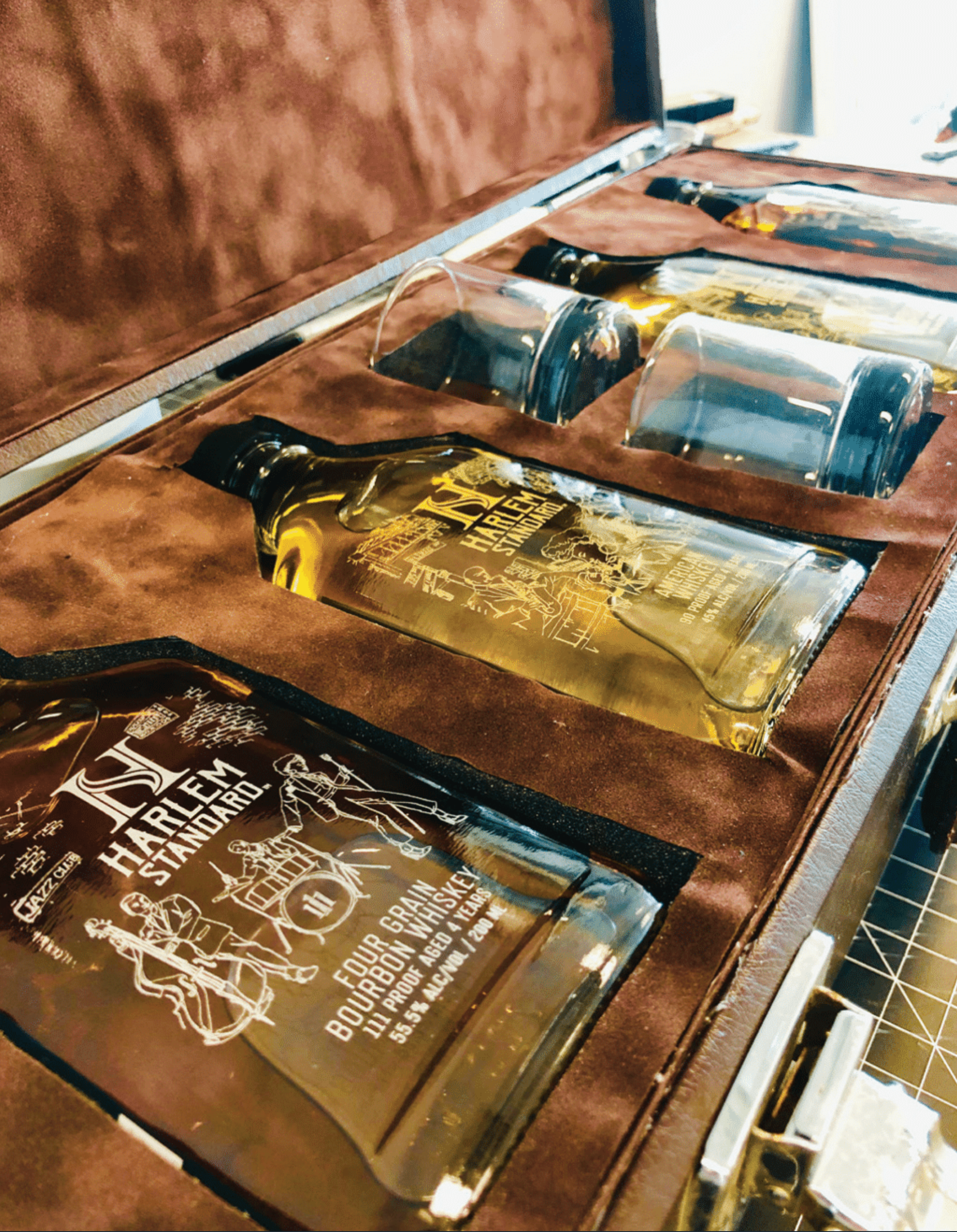 Harlem Whiskey - The Heart & Soul of Harlem in a Bottle
Welcome to our ONLINE STORE and blog.
Every Monday and Friday we invite you to a behind the scenes look of the things, people and places that inspire us. This week we introduce you to Harlem Standard, the heart, hustle and soul of Harlem in a bottle. 
Turning 50 years old during covid can't be fun, however, Thomas and I turned it around by bringing Harlem to Miami to help renown whiskey connoisseur and underwater photographer, Henrik (Welle) along with his nearest and dearest toast his landmark birthday outdoors complying with all covid rules. 
Baccarat Sifter Glasses used for the Whiskey Tasting 
The romanticized roaring 20s have sadly come and gone, but the spirit and "taste" for quality spirits are very much alive and well. Introducing Harlem Standard. Inspired by the rebellious nature of Prohibition ideologies, jazz music, and the Harlem renaissance, we revive old techniques to distill and blend our spirits for the modern palate and connoisseur.
Crafted to be smooth and refined, we work to symbolize uncompromising principles, strength, and multicultural interests. With a spirited heart that evokes passion and authenticity, we believe Harlem Standard is not trapped by time or place.
Harlem Whiskey sits beautifully with Thomas Fuchs Handblown 22k Murano Polka dot Drinking Glasses
Reviving old techniques, they distill their spirits in Indiana and blend and bottle in Bardstown, KY and are committed to providing safe, high-quality beverage ingredients to our customers. As a measure of this commitment, the facility is certified to the BRC Global Standard for Food Safety, achieving the highest grade of BRC certification with a Grade AA.
The company is also committed to continuous improvement in beverage safety; to that end, the cleanliness and consistency of the pot stills and serial distillation columns allow us to develop our remarkable "complex" flavors. It also brings out the ultimate subtleties of the individual grain varietals we source.
Harlem Standard Brand Ambassador Dard Coaxum @harlemgatsby
Born from the Harlem renaissance of the 1920's, the story behind the brand provides a great "hook" that includes a modern "Born in Harlem" attitude, positioning, and visual identity.
The rich cultural history of Harlem - music, art, and personalities within the community is our visual inspiration. Designed with aspirational swagger the packaging is a celebration of the heart and soul of Harlem. 
Harlem Standard launched on January 11th 2020 with an American Straight Whiskey 90 - Proof and a Straight Bourbon Whiskey Four - Grain 111 - Proof available in both 750 ml and 250 ml bottles.
Harlem Standard Tasting Dinner
These offerings have been meticulously crafted to deliver a higher - proof, smooth and refined taste. The line extensions are set to include a Rye Whiskey, Gin, Vodka and a Spiced Brandy by 2021. 
Tap this Link to order your bottles now! 
Have a great week!
Michou