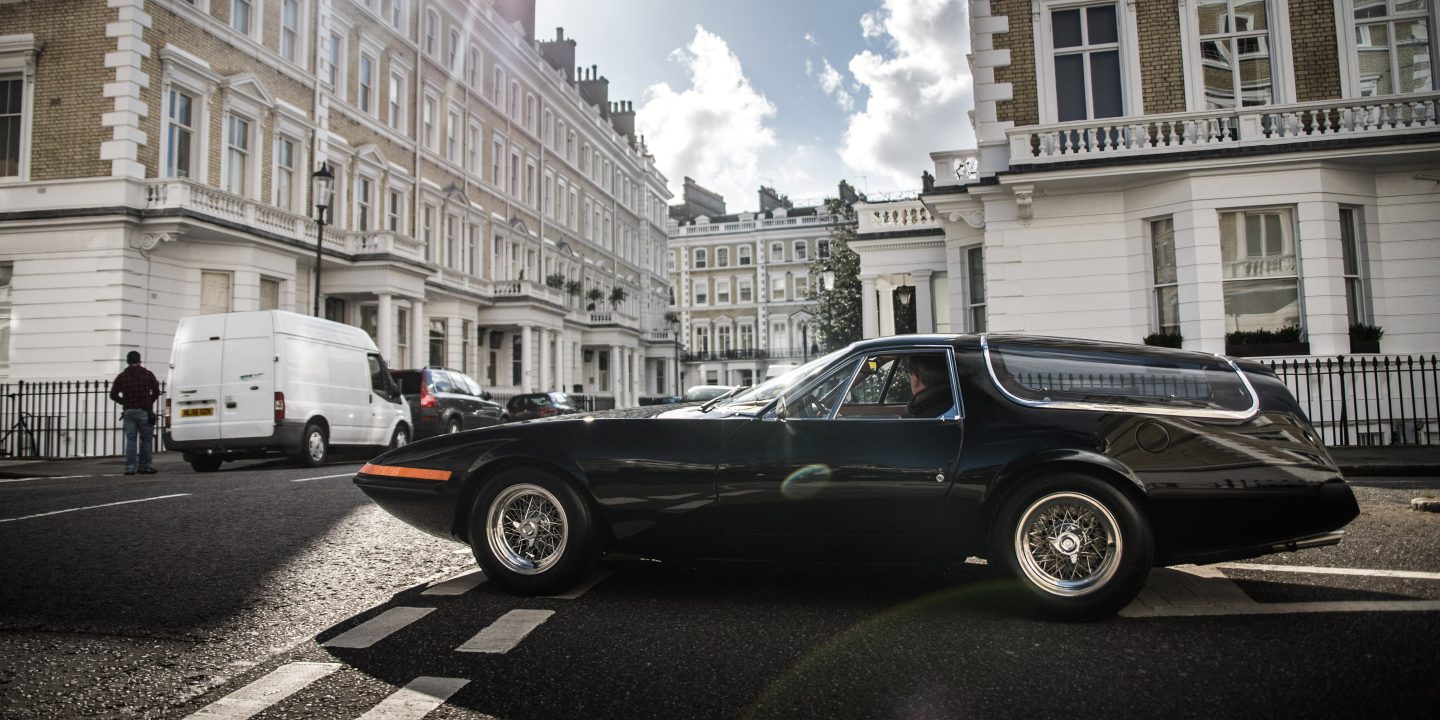 COVET-LICIOUS Thomas & Michou's Ferrari
 The Silhouette of our Dream Station Wagon
Welcome to our ONLINE STORE and blog.
Each Monday and Friday we give you a peak behind the scenes to the people, places and things that inspire us. What you may not know about us already is my obsession with whales and Thomas' penchant for classic cars. 
Everywhere in the world we travel to Thomas researches and picks key dealers and car yards to visit (keep an eye out of our Rolls Royce tour). While in London after our trip to Greece Summer 2019 B.C. ( before covid ) we had a ride of a lifetime.
Today, we take you on a road test of our most "covet-licious" car that matched with our Thomas Fuchs Barware dressed head to toe in Brunello Cucinelli Thomas is a modern James Bond with me in tow as an exotic Octopussy riding shotgun.
 Photos of the Ferrari Chasis
You'd be forgiven for being completely confused if you saw this dramatic sports car making its way through busy London traffic, and it's something that happened more than once when I trained my lens on it. Weird and wonderful, the Daytona 365 GTB/4 Shooting Brake is truly a one of a kind Ferrari, striking to look at and the kind of automobile that has the ability to make heads turn everywhere.
Perfect for Myself, Thomas, Frida & Georgina our Beagle Children
Although not to everyone's taste, there is no denying that it is a machine that stimulates curiosity…and it's all about that glassy rear end. With a tailgate almost entirely made of glass and polished wooden decking on the interior—and the addition of gull-wing glass doors as the only way to access the rear—it's hardly the most practical estate and so our pups can sky gaze and check out their friends riding by.
A closer look at the details with the sun reflecting off the glass doors and chrome surround, I couldn't help but be continually drawn to its strange charm and dedication to form over function.
The Luxe Interior of the Ferrari
The differences to the standard Daytona don't stop at the rear as the interior has been completely redesigned,  with centrally-stacked instruments and the wooden decking finding itself as part of the trim. Although with a face similar to the standard car, the exterior was significantly restyled, retaining only the windscreen, A-pillars, doors and bonnet from the original car. However, it also retains the all-important Ferrari V12, complete with a sensational sound guaranteed to turn heads on the street.
Whats under your hood? Under ours is the heart that drives everything
Recently, this unique piece of coachwork has had a complete restoration by the original builders Panther Westwinds and now back in prime form and is just about as authentic as you can get. Scheduled to be auctioned by Gooding & Company in Pebble Beach this August, it's the perfect opportunity to get your hands on a charming and truly unique Ferrari.
A Family of 4, Thomas and I and our two dog kids 
If you ever find yourself in Italy as a guest at our Masseria we will take you for a spin around in our "covetlicious" dream family of 4 car!
Tap this link and toast your weekend with our barware and get in to your classic car mode.