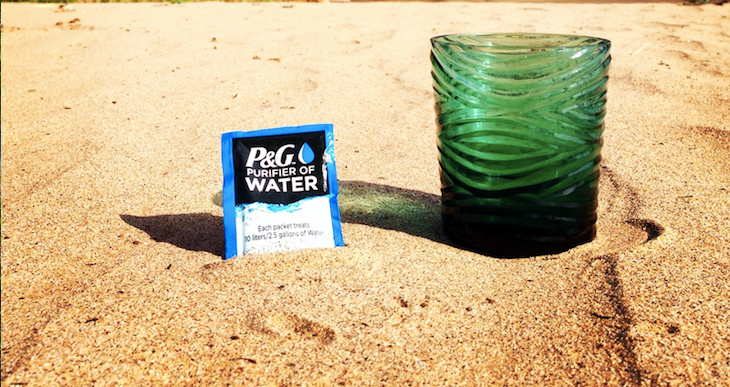 Dreaming of Africa - A P&G Clean Water Story- Lions Tigers & More
DREAMING OF AFRICA 
"Going In search of clean water"
Instagram: @thomasfuchsdecor
Thomas Fuchs & Michou Mahtani w/ Masai Warriors
Welcome to our ONLINE STORE and blog. 
Every Monday and Friday we take you behind the scenes to the people places and things that inspire us. 
It is our constant intention and ethos to give back locally and globally. Our fascination with Africa has been brewing ever since we heard that Lucy was found there.
Lucy is the common name of AL 288-1, several hundred pieces of fossilized bone representing 40 percent of the skeleton of a female of the hominin species Australopithecus afarensis. In Ethiopia, the assembly is also known as Dinkinesh, which means "you are marvelous" in the Amharic language. Lucy was discovered in 1974 in Africa, at Hadar, a site in the Awash Valley of the Afar Triangle in Ethiopia, by paleoanthropologist Donald Johanson .
Masai Mama & Baby
Every part of culture from Yves Saint Laurent   1968 Safari Jacket & Beyonce, Merle Streep / Robert Redford (Out of Africa 1985) , Vogue Italia Black Issue  to Joe Exotic Tiger King  / Big Cat Rescue , the world's fascination with Africa is understandable. 
A few years ago we were invited to join the movement and be a part of the Clinton Global Foundation and the work they were doing in Africa. Procter & Gamble and their Clean Water initiative had formulated packets and tubs where people in remote areas can collect water in the tub and pour the packet of powder and in seconds the sediment would fall to the bottom , strain with cheesecloth then drink. 
Being that our drinking glasses are so popular Thomas designed a drinking glass for the program. It was the most logical connection to creating a product associated with clean drinking water.
Packets of Procter & Gambles Clean Water Solution in a TFC Drinking Glass on location in Africa
Our unified intention was to bring awareness to the need for clean water in Africa / India and developing countries.  All Procter and Gamble products  would be wrapped with our waves and logo and a percentage of all sales of their top Products: Dawn, Puffs, Bounty Paper Towels and Febreze by their vendors like Walmart, Costco and beyond would go towards the supplying of the kits P&G Clean Water program had developed to people most in need.
Thomas and I are aligned in the fact that any project we donate to we want to travel to see the project for ourselves.
Off we went on a freezing Feb morning without coats from our home to the subway in a snowing 25 degree weather, we could not take our coats as only 20 pounds per bag were allowed on local african two propeller planes.
What we saw was truly amazing tribes of people coming together for the unique human bond of water. We saw how long it took the women to walk to the water source and come back carrying pot of water on their heads. We saw how local tribesmen taught people how to use the water to plant vegetables in potato sacks with holes in them forming farms and irrigation. It truly revives the human spirit to see so many tribes and agencies all working together.
Thomas Fuchs Blaze Barware Collection inspired by African Sunsets
The 1st night after our tour of the tribal schools we stayed  in Nairobi at the famed African Heritage House. Overlooking the Nairobi National Park designed by American Alan Donovan, Heritage house with its cofounder of the African Heritage Pan African Galleries, is a combination of the mud architecture across Africa. Each room is painted differently and the stunning view of the live animals while having breakfast make it all surreal.
Our Bedroom & Living Room at Africa Heritage House
 Thomas with American Founder of  Heritage House Alan Donovan
 As a glassware company our next stop was Kitengela Glass Cottages. Renown for their work with people with disabilities and their own distinct craftsmanship with artists like Anslem on their grounds this proved worthy as a potential manufacturing resource for us. 
Our last official work stop was to one of our favorite charities The Sheldrick Wildlife Trust. Following fashion company J.Crew Project we starting donating to the David Sheldrik Baby Elephant Rescue.
Thomas' Nephew Finn Mather in J. Crew's David Sheldrick Trust Collab  
After visiting all the charitable causes we give back to we took the liberty of going on Safari being that we were already in Africa . We looked no further than Lis Farrel of Kimbla Mantana Safaris 
Olivers Camp, Tarangire Africa - Safari
Thomas sitting on our Front Porch at Oliver's Camp, Tarangire
Oliver's was inspired by the trailblazing camps that pioneered the early days of safari. It gives you direct access to the dense concentration of wildlife you will find year-round in this remote region, as well as the chance to enjoy walking safaris. Oliver's is intimate and personal, staffed by a world-class team that has worked together for many years to perfect a safari experience that guests consistently rank among their best.
Next Stop Lelwa Wilderness Lodge
The Lewa Wildlife Conservancy, based at the foothills of Mount Kenya, works as a model and catalyst for the conservation of wildlife and its habitat. We do this through the protection and management of species, the initiation and support of community conservation and development programmes, and the education of neighbouring areas in the value of wildlife.
For the last three decades, our practices have resulted in thriving black rhino habitat and population, which in turn has created a robust ecosystem for a multitude of species including the endangered Grevy's zebra, elephant, lion, cheetah, giraffe and more. We envision a future where people across Kenya value, protect and benefit from wildlife. T
his future depends on communities being able to derive their day-to-day livelihoods in ways that are compatible with thriving wildlife habitat. As a result, we invest heavily in the livelihoods of our neighbours through programmes in education, healthcare, water, micro-enterprise, youth empowerment and more.
With its stunning lodges and food it served as the perfect addition to our trip combining conservancy with luxury. 
LAST STOP:
The Crown Jewel of Africa Peponi Hotel Shella Lamu 
Peponi Hotel is a small boutique hotel on the remote island of Lamu, situated in the Indian Ocean off the North Kenyan coast. Run by the Korschen family who happened upon the old building by chance in the 1960's. The story begins on the families final holiday in Malindi; Aage and Wera Korschen had been farmers in upcountry Kenya until their land was acquired during independence. As Kenya had become home for them and their three children; Lars, Hanne and Nils, they tried to find a suitable replacement career.
However after a few years and not much luck they solemnly come to the conclusion it was time to travel back to Denmark and continue their life there. During these last days Aage decided that, before leaving, he must visit a part of the coast he had always been drawn to; the Lamu Archipelago.

Early in 1966 the couple took a short flight up the coast for a day on Lamu island ending in the small fishing village, Shella, where they happened upon an abandoned Arab style house, perched solitarily like the prow of a ship at the begining of the long secluded beach leading to the Indian Ocean. With in 10 days of seeing this building the young family had the keys and moved to the island to start a hotel and in 1967 they opened Peponi.
 A Hat from Sandy Bornman Lamu Boutique
Instagram: @sandylamu
Designer: @babatundestylin
The hotel started small with only four rooms but over the years through Aage and Wera, then later their son Lars and his wife, Carol, Peponi has grown in size and popularity. Even having reached our 50th anniversary the hotel still retains much of the character and charm that it had from the beginning. Small and personal, it is the perfect rest after a safari or a hide away holiday from modern life.