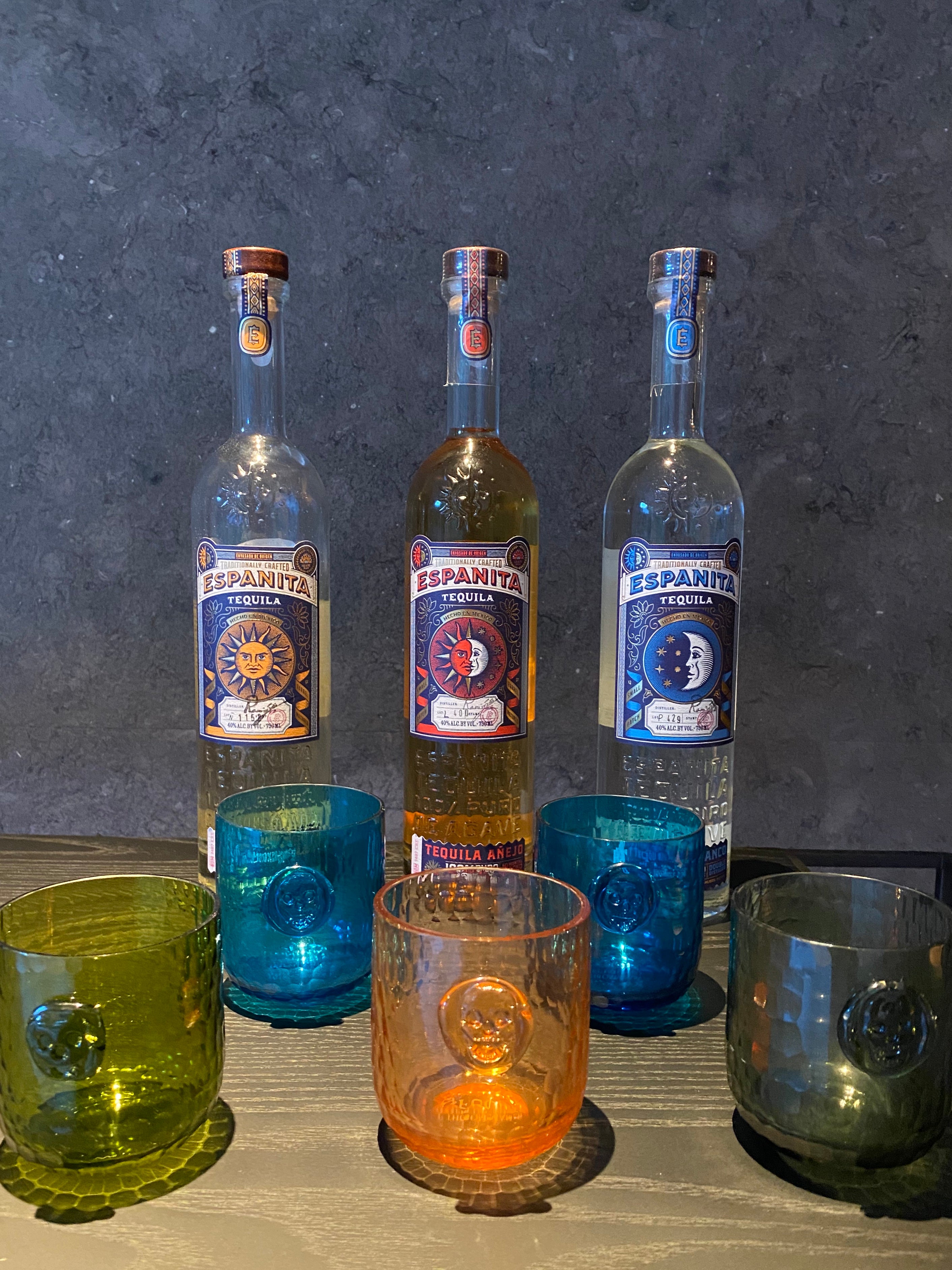 Dinner @ French Bull Dog Sandro's Home w/ his Favourite Tequila - Espanita Tequila
Our host French Bull Dog "Sandro Poggi" greeting guests while showing off  Espanita Tequila his preferred Tequila to serve his guests! 
Welcome to our blog and online store.
Every week we introduce you to people and places that inspire us and make us think outside the box of life. This week we introduce you to a Espanita Tequila  . In the time of Covid we followed all guidelines which makes covid forcing us to  social distance and invite no more than 6 people to our Espanita Tequila Road Test.  As a Barware and Drinking Glass Company we are always in search of the perfect libation. 
Arriving "Tardy to the Party" Ivette & John Schneider of NYC & Miami , Designer Thomas Fuchs &  Host Interior Architect Juan Poggi and his partner Rick Cora. 
It was our intention to get seasoned tequila drinkers and a chef to Road Test this amazing product. 
Handcrafted from 100% Blue Agave, grown at high elevations of Jalisco's Highlands, Espanita is estate-bottled at one of Mexico's most respected artisanal distilleries. Created by using hand-selected ripe Agaves and ancestral production methods, Espanita is a sophisticated and velvety smooth spirit, which accentuates characteristics that are exclusive to tequila alone: the distinctive aromas and delectable flavors of traditionally slow-baked Blue Agave.
Espanita is one of the few Tequila's and alcohols to be founded and owned by a female entrepreneur.  Marina Wilson immigrated to the USA from the Ukraine.  In a world where alcohol companies and the trade is still very male dominated Marina has cut her own cloth and succeeded. Marina and her Espanita have made their way into top retailers nationwide which is a testament to both her will and the quality and price of the product (see below links). 
Espanita is aged in lightly charred American white oak barrels that were previously used in Bourbon production to ensure mellow and complex bourbon-finished flavor.
Look Good & Taste Better with Espanita Tequila sipped in our Thomas Fuchs Barware 
What better group could of taste makers could you find between  Interior Architect Juan Poggi , Designer Thomas Fuchs , Health Executive John Schneider, Ad Exec Ivette Pradera , Verizon Exec Rick Cora and yours truly. 
Juan Poggi who's stunning abode in Miami's  Coral Gables neighbourhood is fascinating with its juxtaposition of colonial exterior and the Japanese styled interior. 
Co-Host / Peruvian  Interior Architect & Chef Juan Poggi  (Sandro's Dad) did the cooking blending the Japanese / Peruvian inspired dinner. In his "Kamado" - Japanese for kitchen- Juan made his scallion pancakes on his open faced Hibachi , a peruvian fish broth with a floating scallop along with shiitake mushroom filled potstickers. 
Interior Architect & Chef Juan Poggi presiding over his open air Hibachi grill in his Kamado - Japanese Kitchen.
 A high-impact label can complement a brand's story, grab buyer's attention with "shelf appeal," and communicate authenticity. Espanita's illustrative branding is in fuenced by the sacral Sun and Moon symbolism that is deeply rooted in the ancient mythology of indigenous people of Mexico as well as people of Spain, and is channeling a sense of mystery.
Espanita Blanco being poured into our sipping glass
 In a creative, original spin on conventional tequila packaging, labels of three age varietals of Espanita feature distinctive art designs, symbolic of tequila's natural transcendence of from clear and pure Blanco to warm golden shine of Espanita Reposado and culminating in the well-aged, complex Espanita Anejo tequila.
Chef Juan's Shiitake filled Pot Stickers 
The label of Espanita Blanco depicts the crescent Moon surrounded by shimmering stars, a symbol of power that has been recurring in art and spiritual thought for over 30,000 years. A growing Moon traditionally marks the time to make wishes, to plant seeds and to let go of the past; this is when you welcome your new creation into your life and cradle it to maturity.
 Espanita's Blanco , Resposado & Anejo
Symbolizing a "birth of the new", the crescent Moon is a fitting representation of the freshly-distilled, unaged Espanita Blanco tequila that eventually will be transformed into Reposado and Anejo through a long and laborious process of barrel maturation. The label of Espanita Reposado features "the Sun in Splendor": the golden disk of Sun with sixteen rays and a human face; it is an ancient symbol of rebirth, strength and power. The Sun is seen worldwide as a source of celestial gifts conferred to our planet that brings abundance, continuity, stability, positive energy, hope and happiness.
Chef Poggi Blending East with West Japanese Food & Espanita Tequlia
As a crucial factor in growing Blue Agave crops, the Sun was selected to represent Espanita Reposado, whose golden color, achieved through 6 months of aging in oak casks, gently evokes warm brilliance of the midday Sun. Espanita Anejo's labels portray a juncture of the Sun and the Crescent Moon; combined together they represent a merging of opposites, unity and cooperation. This balance between opposing parts is a fitting match for Espanita Anejo Tequila, a well-aged spirit that has acquired a lot of wood-driven favors from the charred oak barrels but the one that still carries a presence of its innate slow-roasted Blue Agave's characteristics. 
Espanita Tequila is available in Costo, Total Wine & ABC Liquors to name a few retailers. 
Designer Thomas Fuchs keeps our host company while sipping his Espanita  Anejo in a  Skull Stamp Drinking Glass of his own design
John Schneider of Avon Health Economics , a seasoned tequila consumer, states - " this tequila is different- with its unique combination of smoothness, drinkability and complexity I was able to drink it throughout the evening paired with Chef Poggi's Japo/Peruvian cuisine the food and the tequila synergistically brought out the best in each other"
Designer Thomas Fuchs  - "Did you know 
Tequila was first produced in the 16th century near the location of the city of Tequila, which was not officially established until 1666. A fermented beverage from the agave plant known as pulque was consumed in pre-Columbian central Mexico before European contact. When the Spanish conquistadors ran out of their own brandy, they began to distill agave to produce one of North America's first indigenous distilled spirits "