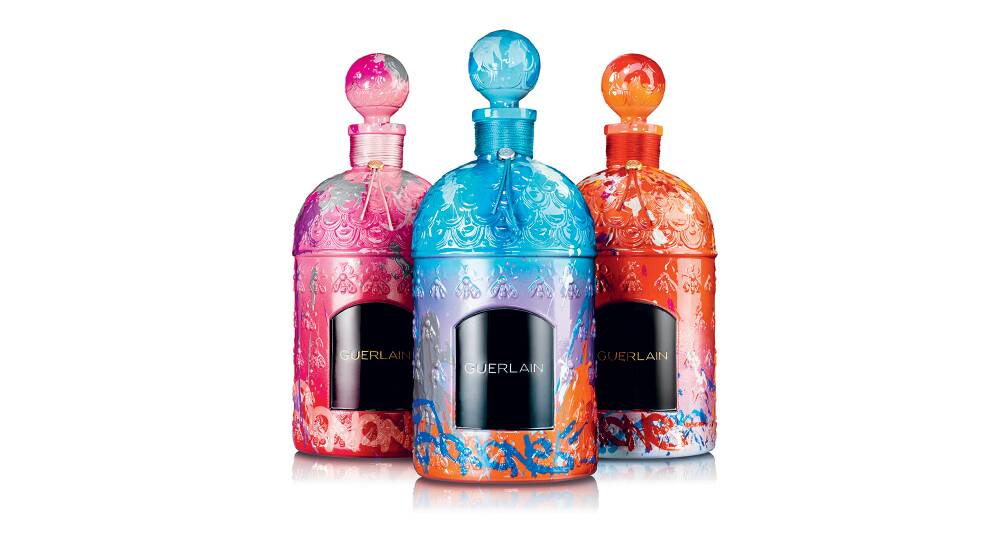 THE SCENT OF A MAN - IMPERIAL BY GUERLAIN
Guerlain's Iconic Bee Bottle by Artist JonOne
Welcome to our blog and ONLINE STORE.
As a barware, lighting and  home accessories design company, we at Thomas Fuchs Creative specialize in handmade goods. Every week we give you behind the scenes to the people, places and things that inspire us. 
This week I take you on a trip to the House of Guerlain and its iconic fragrance Imperial by Guerlain.  
Guerlain (French pronunciation: ​[ɡɛʁlɛ̃]) is a French perfume, cosmetics and skincare house, which is among the oldest in the world. Many traditional Guerlain fragrances are characterized by a common olfactory accord known as the "Guerlinade" (fr).  
The house was founded in Paris in 1828 by the perfumer Pierre-François Pascal Guerlain. It was run by the Guerlain family until 1994, when it was bought by the French multinational company LVMH. Its flagship store is 68, Avenue des Champs-Elysées in Paris.[1]
Photo Credit: Michou Mahtani 
Just back from my trip to Paris as I walked across the city to view the Arc de Triomphe  I passed the Guerlain Perfume store on the world famous Avenue des Champs-Élysées . Seeing the facade of Guerlain I was harkened back to a memory that is part of my genetic make up of today.... the fragrance Imperial by Guerlain.
As a man growing in to your own choice of scent or scents is a right of passage. I recently recalled to my friend French art curator, Gabrielle Hatchuel, that I feel the modern time we live in has not only lost its reference in manners and aspiration of how to live a decent life be it the way you talk, the way you move, the way you entertain, is as lost as Noah on his Ark.
The youth of today is lead by "influencers" whom not only haven't done their research but sadly in the touch of a swipe or scroll their followers are left without any one liner on the history or reference of the brands they are hawking.
Artist John Andrew Perello aka JonOne collaboration with Guerlain
The new generations lack first hand stories of war or mass exodus to countries that families have made their new homes while pining after luxuries that are made in faraway lands.  
 Guerlain's Iconic Bee Bottles 
Luckily for the few of us, fifty years old or older, who enjoy old stories, I sit here today writing about my memories that were brought back to me by this legendary French brand which has enlisted a modern artist to help propel the house's history, reverence and brand equity to inspire a new generation to "Follow / Like" and purchase a scent and a perfume bottle steeped in history.
HRH Prince Philip Duke of Edinburgh with my Grandparents at our Round Hill outpost
My iconic grandfather,  Monsiuer Chulani, left Beirut during the war and fled to Jamaica. In 1953 Jamaica was associated with The British Empire, as we are all subjects of Her Majesty The Queen and part of the Commonwealth, as well as James Bond and all things luxury. While one of the many wars Lebanon had endured raged on what more chic of a place would one want to escape to than Jamaica. 
The Family Patriarch and his brood at his Crystal House Residence 
My grandfather, whom had pioneered yet another legendary french Maison in Beirut and Cairo, Boucheron, moved to Jamaica and opened perfume and crystal ( Baccarat , Daum, Lalique, Christofle )  stores throughout the Caribbean and South America retailing at all airports, town centers and at duty free stores, which included Guerlain among other scents. 
Morris Lapidus' The Crystal House Miami Beach
My introduction to Imperial by Guerlain was first introduced to me at my grandparents apartment in Miami Florida. In acquiring real estate my Grandfather was equally as maverick as in his business sense in choosing renown architect Morris Lapidus' project 5055 Collins Ave, The Crystal House. Their apartment 11M  is where my memory of Imperial by Guerlain was first introduced to me. 
Eglomise Mirrors in my Grandfather's Bathroom
His bathroom was a frenchman's renaissance boudoir that transported you to times past with its floor to ceiling eglomise mirror tiles while the pungent smell of his iconic scent floated in the air encasings ones soul with a line of Imperial's Bee Bottle sitting on the shelf boasting their names and sizes.
As seen by me at La Samaritaine 
Created in 1853 as a special order for the marriage of Empress Eugénie to Napoleon III, the bee bottle is a timeless icon of the Perfumes and Cosmetics house and the subject of earlier tributes by several artists. To begin 2016, JonOne proposes his own contemporary take on the 69 bees.
As seen at La Samaritaine 
Nearly 100 bottles in the Guerlain Exclusive Collections lab became a blank canvas, inviting the artist to give free rein to his inspiration. Each fragrance took on a different color scheme:  blue tones for Shalimar, a palette of pink for La Petite Robe Noire and orange hues for Rose Barbare.
Michou Mahtani (Me) , Artist JonOne & Curator Gabrielle Hatchuel
The one-liter bottles are veritable works of art, engraved with the Guerlain name, numbered and signed by the artist. They are available exclusively at the Guerlain 68 Champs-Elysées boutique, which is also hosting an exhibition of JonOne's large format work.
Enjoy your weekend and pick a fragrance with a history and create your own memories!
Michou