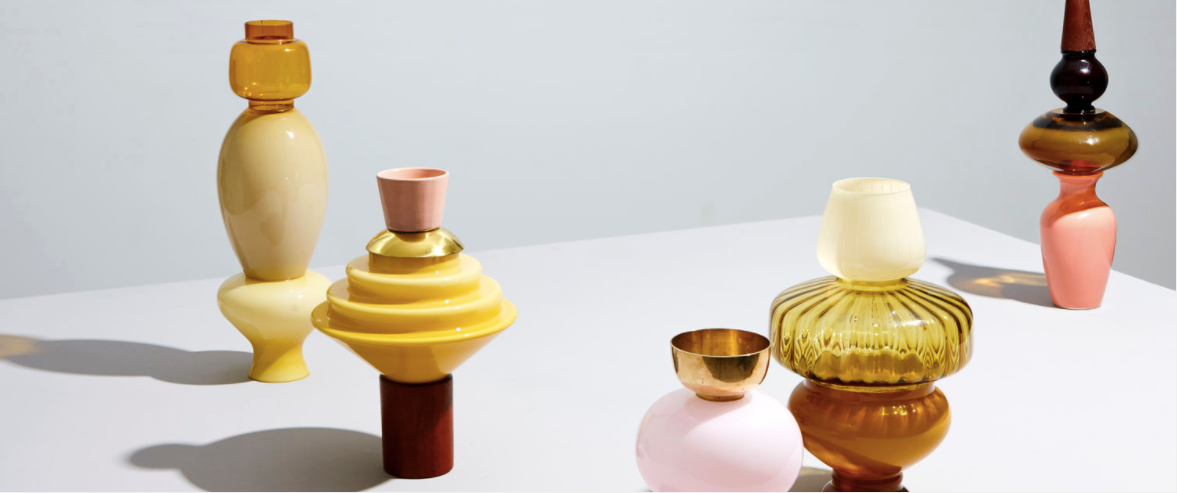 Stacking Sculptures - Sigrid Buus
Welcome to our online store and blog. 
Every Monday and Friday we take you behind the scenes to meet people and travel to places that inspire us. As you know we are obsessed with glass. As Thomas always says "one minute its pigment and powder and the next minute its a solid object". 
Sigrid Buus is a danish artist living in Copenhagen. Educated as an Industrial designer in 2006 from Danmarks Designskole, now called Royal Danish Academy of Fine Arts. We have been following her work for ages and are obsessed with her forms and colour combinations. In our next 1/2 & 1/2 Melamine Collection you will see our more subtle colour combinations that are more subdue proving subtle is still strong,
Sigrid creates Stacking Sculptures out of vintage and recycled elements. The sculptures compliment each other in small families and consists of all kind of materials. All parts are collected around the country in flea markets and small vintage shops and combined into unique sculptures.
Every element has a story of its own - a different shape and a different function. Some are old ceramic vases, glass lamp shades and candle holders and some are brass parts from old lamps and old wooden tools and furniture parts.
As all sculptures consists of vintage and recycled elements please notice that each part may have patina or small flaws in terms of their previous life. This is all part of the beauty of recycling and contributes to the story of each sculpture.
We hope her forms meet your function in dreaming in colour and having your eye wrap around sculpture and the dimension speaking to your soul sending messages of beauty.
I wish you a Happy Weekend!
Michou
contact: 
Instagram: @sigridbuus
sigridbuus@gmail.com