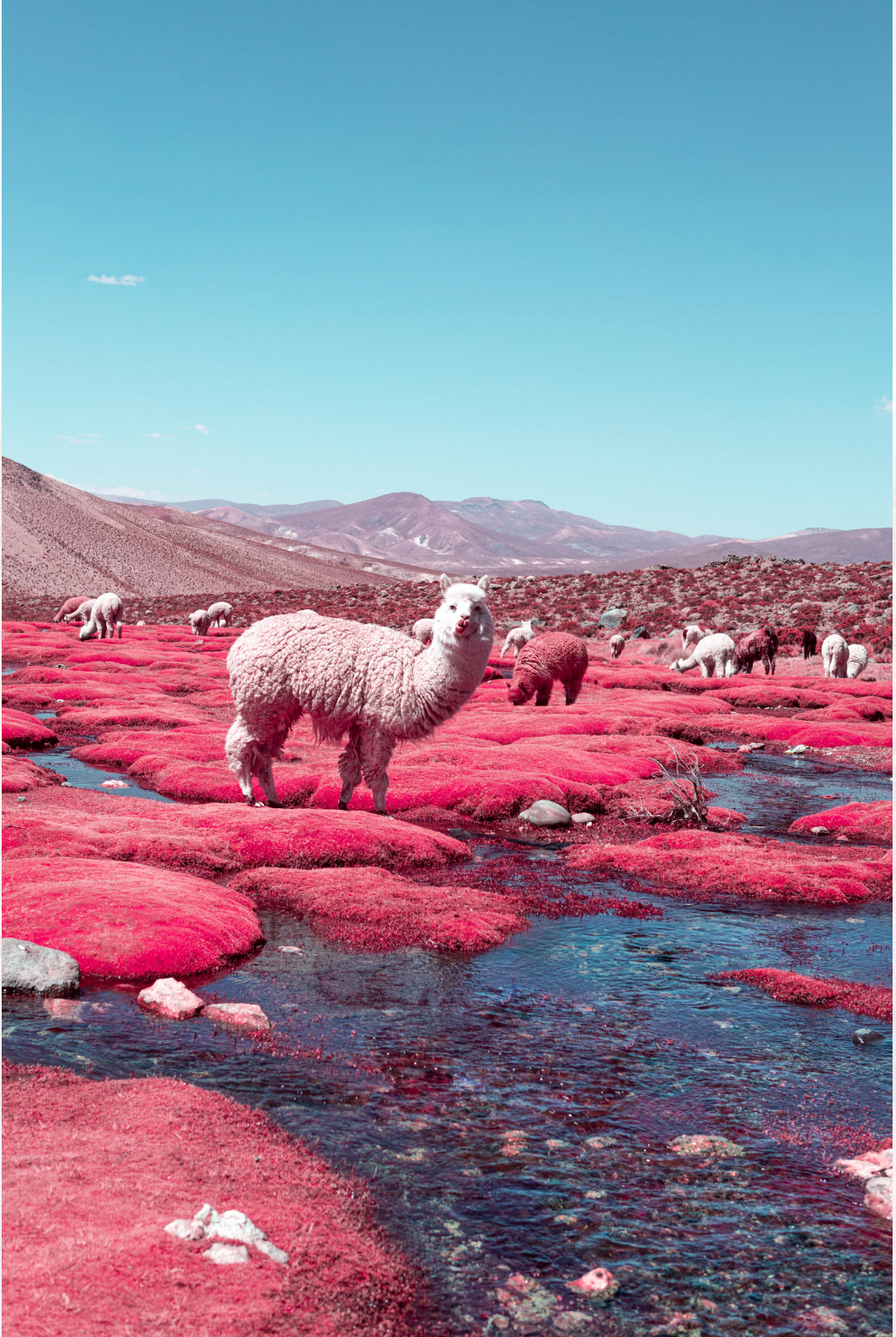 INFRARED - Paolo Pettgiani makes us see "INFRARED"
Photographer Paolo Pettigiani
Welcome to our online store and blog.
Every Monday and Friday we give you a peak behind the scenes to the people, place and things that inspire us. This week we introduce you to Italian photographer Paolo Pettigiani who begs us to ask the question did the cart come before the horse, or its it synchronicity pulling from the zeitgeist that we created imagery and product in the same colour way. 
Peru Infrared
 
Infraland™ is a graphic and visual exploration of nature that aims to highlight the beauty that surrounds us and that is too often forgotten. For this project he used digital Infrared photography.

This technique enables the full sensitivity of the camera's sensor, making it sensitive to UV, visible, and IR light. Elements with chlorophyll, such as grass, leaves and trees, strongly reflect IR light on the invisible wavelength.
Peru Landscape - Infrared - Paolo Pettigiani
While my past midnight journeys through Pintrest I came across Paolo's work. I immediately looked up his instagram account and contacted him. As you know even in a pandemic the Italians managed to go on holiday!
He kept telling me he would get back to me but didn't LOL. I was left pondering why I was so attracted to his photographs. Was it because of the landscape and me being able to virtual travel to Peru, was it the fascination of the sheep's existence on a barren land or most relevant our Thomas Fuchs 1/2 & 1/2 Melamine Collection  (see photo below). 
Sheep in Peru - Paolo Pettigiani - Infraland 

Today Paolo is the co-founder and art director of No Panic, a creative agency focused on strategic brand narrative and digital communication.
After a degree in "Design and Visual Communication" at Politecnico in Turin, he found his trademark style using infrared photography: a fusion of science and creativity, playing with colors, shapes and contrasts in order to question reality as we see it.
Paolo aspires to highlight the beauty that surrounds us and that is too often forgotten, through graphic and visual exploration. With Infraland, a photographic-artistic-social project, Paolo wants to put nature in the foreground, by emphasizing its hidden colors, which cannot be seen by the human eye.
Thomas Fuchs 1/2 & Half Melamine Collection 
Above you can see our platter for spring 2021 that was made in 2018 hence my pondering as humans we are all pulling from the same river of creativity and interpreting colour form and structure in our own ways bringing us all together as one.
Enjoy your weekend and tap this link and pick up a set of our melamine Dinnerware !