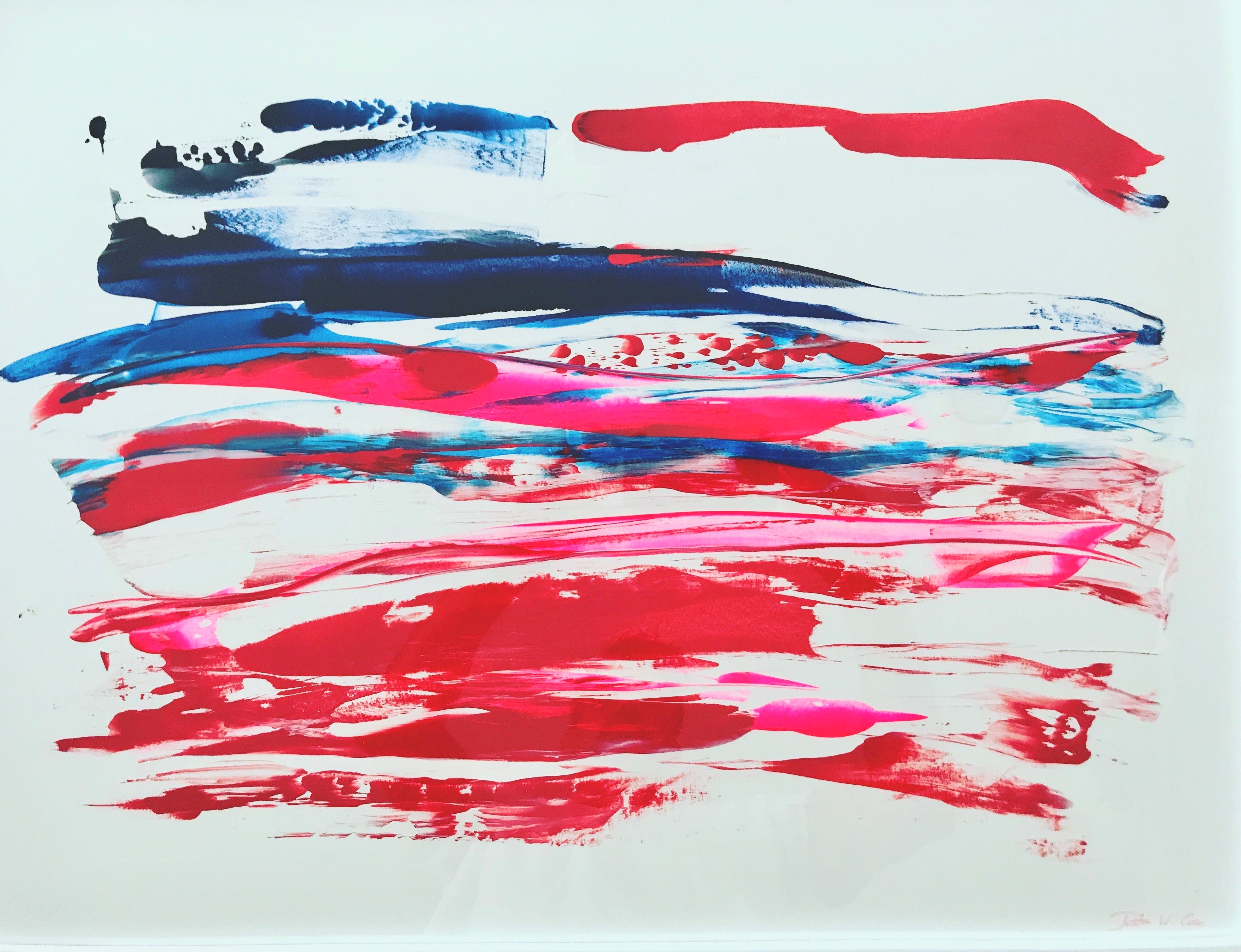 It All Comes Back to Tommy - Artist Justin W. Cox Rides His Own Wave
Artist Justin W. Cox and his made to order custom hand painted surfboards
"Water Is My Life"
Welcome to our online store and blog.
Each week we take you on a journey behind the scenes of the people and world that inspire us.
This week we introduce you to  artist Justin W. Cox. I am not sure if the cart came before the horse, meaning that Justin was scrolling through instagram and came across our Melamine Collection and "added us".
For people who know me I don't sleep, as soon as I saw Justin added @thomasfuchsdecor I was on the case at 3:45am. Not only was I taken aback by his art I realized that he knew my closest high school friend Krissy Morrison Guttroff , they both live with their families in Rowayton CT. 
Justin's work appearing in Vogue's Gallery section with Emma Stone on the cover
Living and working in NYC there are very few institutions in Art, Music and Fashion that people get their feet wet in and usually keep coming back to be it professionally or personally. One is caught in the tidal wave of an industry that serves as a point of reference of life building. 

Justin W. Cox Featured in Vogue's Gallery with Naomi Campbell on the cover

Tommy Hilfiger is of those institutions that form New York City experiences. This is where Justin's story starts. His career started with Trent Wisehart, Tommy's  EVP Global Creative Services, teamed up with Justin to head up showrooms, events and special projects for Tommy. Justin had left Tommy Hilfiger the two had reconnected a few years later and came together for the creative in store project using Justin's paintings globally.

Justin W. Cox & Tommy Hilfiger at Studio Tag NYC Justin's 1st Show
"Justin Cox is a creative force. His art has incredible energy and life. Our stores, offices and my home wouldn't be the same without his incredible paintings!" - Tommy Hilfiger

Having been the high school drummer for his band "Hyperactive" one can say it's his love of music and the ocean are the two dominant traits shaping his life. 
With his  parents owning a retail store where he summer jobbed while his brother Chris left to parsons then got a job at Tommy where he yanked Justin into working at Tommy Hilfiger. While working at Tommy he met his wife Tiffin Jernstedt who at that time was head of public relations.
 The English Beat, Fishbone, Fugazi & The Jam 

In speaking with Justin one quickly realizes that the vibe of a person , a term so commonly used , is the essence of their energy and their literal vibration. In Justins case the love of music has been the solitary chord that has resonated from forming his high school band to making his art now.
The career in fashion was merely a bridge to get him back to his studio listening to hits by The English Beat, Fishbone, Fugazi and The Jam while he paints his canvases. 
 Justin custom piece for Steve Kassin's Brooklyn Lobby

Justin's custom pieces for Global Tommy Hilfiger Stores  spearheaded by EVP Global Creative Services for Tommy Hilfiger Trent Wiseheart

The Collectors:  Daymion Mardel Photographer, Keith Vallone- PVH Creative Director, Steve Kassin's Kingswood II Lobby, Joy Lewis of Fashion Tailor, Lori Bradley- Amazon , Chad Kincaid- PVH Director of Styling Jennifer Bickerton- JBPR Laura Waitz, Staci Child, Liz Koppelman among others including myself LOL ;-)
TheGirt, Dune & Salt, &  Brooklyn Surf Company a few of the cool cats who sell Justin's Paintings & Surf Boards

Clockwise: Justin & Tiffin; Parents Richard & Gail Cox; the dog children; 4 kids and one on the way , Miles, Clive, Ace, V and 5th tbd 

Justin's "Black Lives Matter Project" 
printed by Silkshop 
As with all of us, Justin felt so moved with the Black Lives Matter movement he created this design and T-shirt and had them printed by Silkshop printing and gave them to all his friends.

Its a Family Affair - Jernstedt Family Reunion all sporting Justin's Peacock Design
Justin comes full circle in Summer 2021 with his 3 T-shirt designs for The Gap.  Formerly VP, Head of Adult Design and Concept at Gap John Caruso met Justin where you ask?  Thats right... you guessed it... John had met Justin at Tommy Hilfiger hence it all comes back to Tommy!