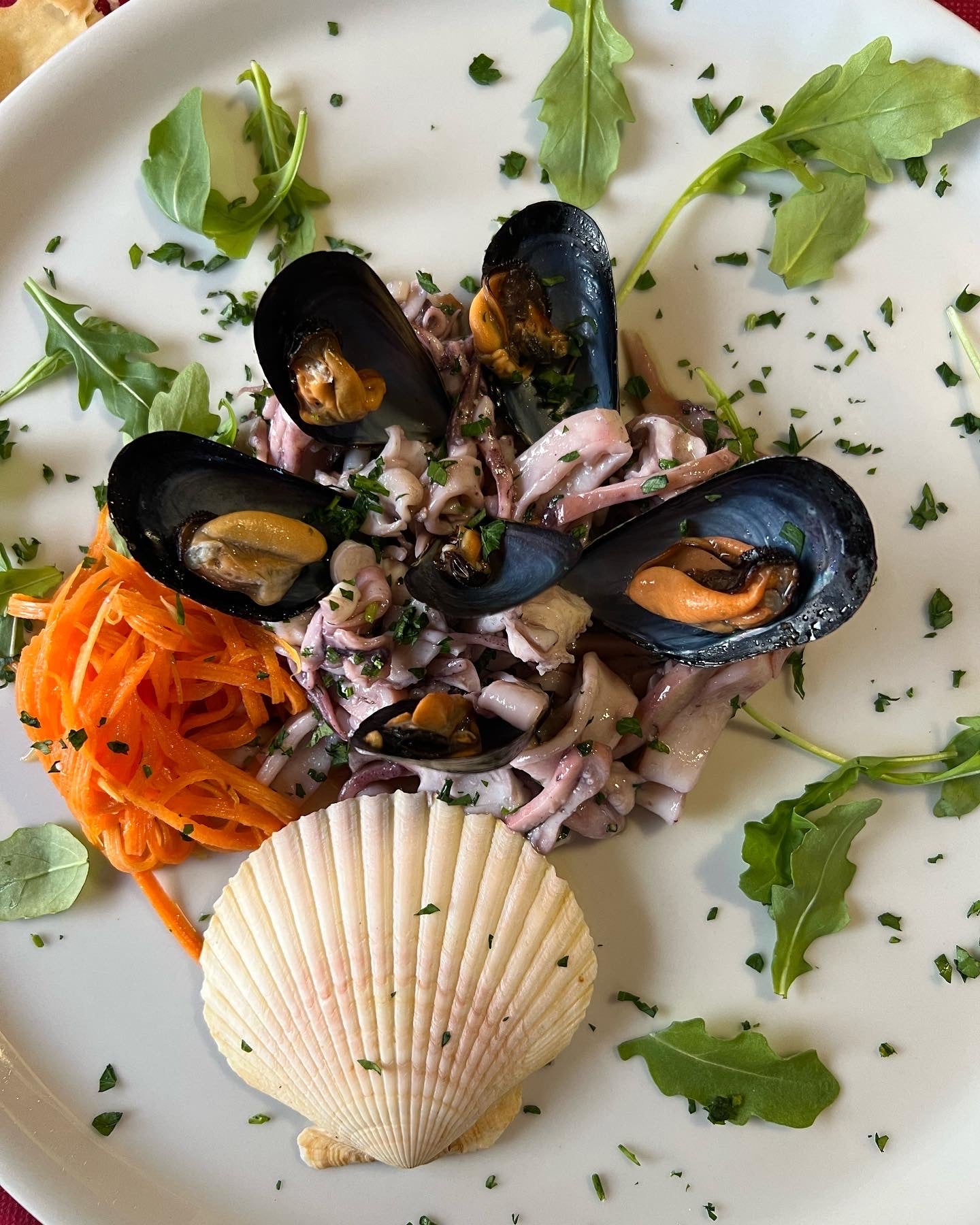 EATING OUR WAY THROUGH PUGLIA - BEST FOOD AND FARE IN SOUTHERN ITALY
The Gang at White Beach Club
Welcome to our online store and blog.  
Each week Thomas and I give you a behind the scenes look into the people places and cultures that inspire our brand and that we are in awe of. Travel is a key part of why we love our jobs so much as we get to work with artisans from all over the world while eating our way throughs the countries we visit for work and pleasure. 
In this blog we take you to Puglia in southern Italy. We have been in Italy for 6 weeks driving from Rome to Sicily and now in Puglia our most favourite region in Italy. On our recent jaunt threw the Puglia Region in Italy, Thomas and I had the most amazing meals for the most amazingly reasonable prices! Our food tour took us to Martina Francia, Ostoni, Torre Canne,  and a beach cafe where apparently Madonna herself threw her Birthday Party PRE COVID!
The beaches in the region are less crowded, the food is divine and for 4 glasses of wine and prosecco your total bill will be 14 euros see receipt below, with most importantly no hangover. 
Total Bill for 4 Glasses of Great Wine / Prosecco
Puglia, a southern region forming the heel of Italy's "boot," is known for its whitewashed hill towns, centuries-old farmland and hundreds of kilometers of Mediterranean coastline. Capital Bari is a vibrant port and university town, while Lecce is known as "Florence of the South" for its baroque architecture. Alberobello and the Itria Valley are home to "trulli," stone huts with distinctive conical roofs.
In Each of the towns we visited we picked our favourite eateries that are known more amongst the locals who live there giving you a peak into the real way to eat while in Italy. There is no wrong way to eat while in Italy.
Location OSTUNI :
White Beach Club - Pictured Above
White Beach Club is a private beach club with a sandy beach and breathtaking crystal clear blue sea.
A relaxing place in the centre of nightlife a great place to meet new beautiful people to spend unforgettable summer days and nights with live music & fantastic food. 
Location Ostuni:
The Staff & Chef
Al Solito Posto is the pizzeria restaurant that has been in Ostuni since 1999, a few steps from the historic center. More than a simple restaurant, a real institution for the residents of the white city, and always a fabulous discovery for tourists.
Black Truffle Cheese Pizza Topped w/ Sashimi Shrimp
Merit of the exceptional location of the restaurant, really close to the historical center, but above all of a menu consisting of regional dishes of Puglia, both seafood and seafood, prepared maintaining a perfect balance between tradition and innovation: a genuine cuisine, made of local raw materials and a deep passion for culinary art.
Michou Holding Up Handmade Dinner Plate @ Osteria Tempo Perso 
The Osteria del Tempo Perso is one of the most famous restaurnts in Ostuni. The historic restaurant is located in the heart of the historic center of Ostuni, this wonderful town in Puglia known throughout the world as the White City. Born in 1983, the restaurant and the components of the mystical environment. Consuming a lunchat Osteria del Tempo Perso, is enjoying the exquisite flavors of the sublime typical cuisine of Puglia and Ostuni, in an atmosphere of unparalleled charm.
Fried Zucchini Flowers Stuffed w/ Ricotta 
Located on an old-town side street, this laid-back restaurant occupies two caves, where ancient rough-hewn stone walls contrast with elegant table settings. The service is friendly, and local, seasonal dishes include antipasti mainstays like eggplant Parmesan or salumi di Martina Franca, as well as both meat and fish secondi.
Linguini w/ Clams and Zucchini Flowers
Thomas & His Plate
Location Martina Franca:
Our Daily Morning Coffee & Pastry @ Bar Adua
Work, tradition and passion: these are the characteristics that make Bar Adua a milestone in coffee in Martina Franca. His story begins back in 1936. To retrace his birth and growth there are the grandchildren of Leonardo Campobello, patron of Adua coffee: Laura, Donato and Leonardo. In their eyes and in their hands the passion inherited from grandfather Leonardo shines through and tell us how their adventure began.
Since then, for all the years to come, they have dealt with their coffee. Now in 2014, the Adua Bar remains in its historical location and continues to churn out bocconotti, coffee slushes, almond milk, artisan ice cream. In the industriousness of Leonardo, Donato and Laura there is a bit of innovation that mixes well with tradition.
This is demonstrated by the fact that, even today, almond paste is processed by hand. There are no machines that replace the hands of expert pastry chefs. On the other hand, even if a click today facilitates production, it can never replace the experience and the history that defines a quality product. The history of Adua Bar is a story like many others that tells a laborious Martina, who treasures the past to look to the future.
Location Martina Franca:
The Ristorante Gaonas Officine del Gusto was founded in February 2010 by the passion for the cuisine of Gianfranco and Antonella. Located in the heart of the historic center of Martina Franca, it contains the essence of this corner of Puglia: small and reserved, with great attention to detail, among our tables you can savor the flavors of tradition at the service of creativity.This restaurant deserves the Michelin Star that Temp Perso Got !
We take from the past the respect of the raw material and we process it also following new and innovative methods of cooking, such as low temperature and slow cooking, because we want to bring into your dishes all the flavor, texture and properties of each ingredient.
Torre Canne :
The history of the restaurant Al Buco began in the early '70s, when the fisherman Jerome Campanella, commonly known as "Cimonetto", and his wife Pasquarella transform a cave used as a warehouse and "care" of seafood in a fish with adjacent refreshment room. The restaurant, among the first on the promenade of Torre Canne, is growing rapidly and now is one of the most popular seafood restaurants in the area.
Among the typical dishes of the restaurant Al Buco as well the fish is always fresh and cooked in the traditional local, remember the "Sea Symphony", the noodles with fresh shrimp, cuttlefish, mussels, rocket and "Cherry" and the "Cimonetto" swordfish. The restaurant also has a wide and careful selection of local and national wines. Thanks to wonderful veranda overlooking the sea and the adjoining bar with homemade ice cream, the restaurant Al Buco is the ideal place to live opportunities holiday or everyday.
Location Cisternino :
 Giardini 36 is perfect for the Vegan or Vegetarian in search of something besides seafood. Their combinations of locally grown (behind the restaurant) herbs and vegetables along with the unique decor cactus beds sunken into the middle of the table make this a great unexpected stop.Furthermore they have great gifts of jarred goodies to buy to bring as gifts or to #selfgift. 
 Location Coravigno:
Lobster w/ Spaghetti and an Amazing View
Ristorante Miramare da Michele : At this place clients can delve deep into delicious meals, great good monkfish, pizza and lobster pasta. Enjoy tasty gelato and c fresh cheesecakes this restaurant offers. The wine list is extensive, every guest can find something that satisfies their taste. To make your dishes even tastier, order lemonade that is legendary. This is our secret restaurant we escape to while everyone is at siesta from the factory, it closes because of the heat from 1pm - 5pm, we devour lobster pasta in peace as seen in above photo. 
Location Alberobello:


 Thomas and I walking through all the Trulli in Alberobello 
Alberobello is a town in Italy's Apulia region. It's known for its trulli, whitewashed stone huts with conical roofs. The hilltop Rione Monti district has hundreds of them. The 18th-century Trullo Sovrano is a 2-level trulli. Furniture and tools at the Museo del Territorio Casa Pezzolla re-create life in the trulli as it was centuries ago. Southwest of town is the Casa Rossa, a WWII internment camp
We invite you to visit our fav region and Italy and use our Food Guide as a reference. 
Have a great weekend,
Michou