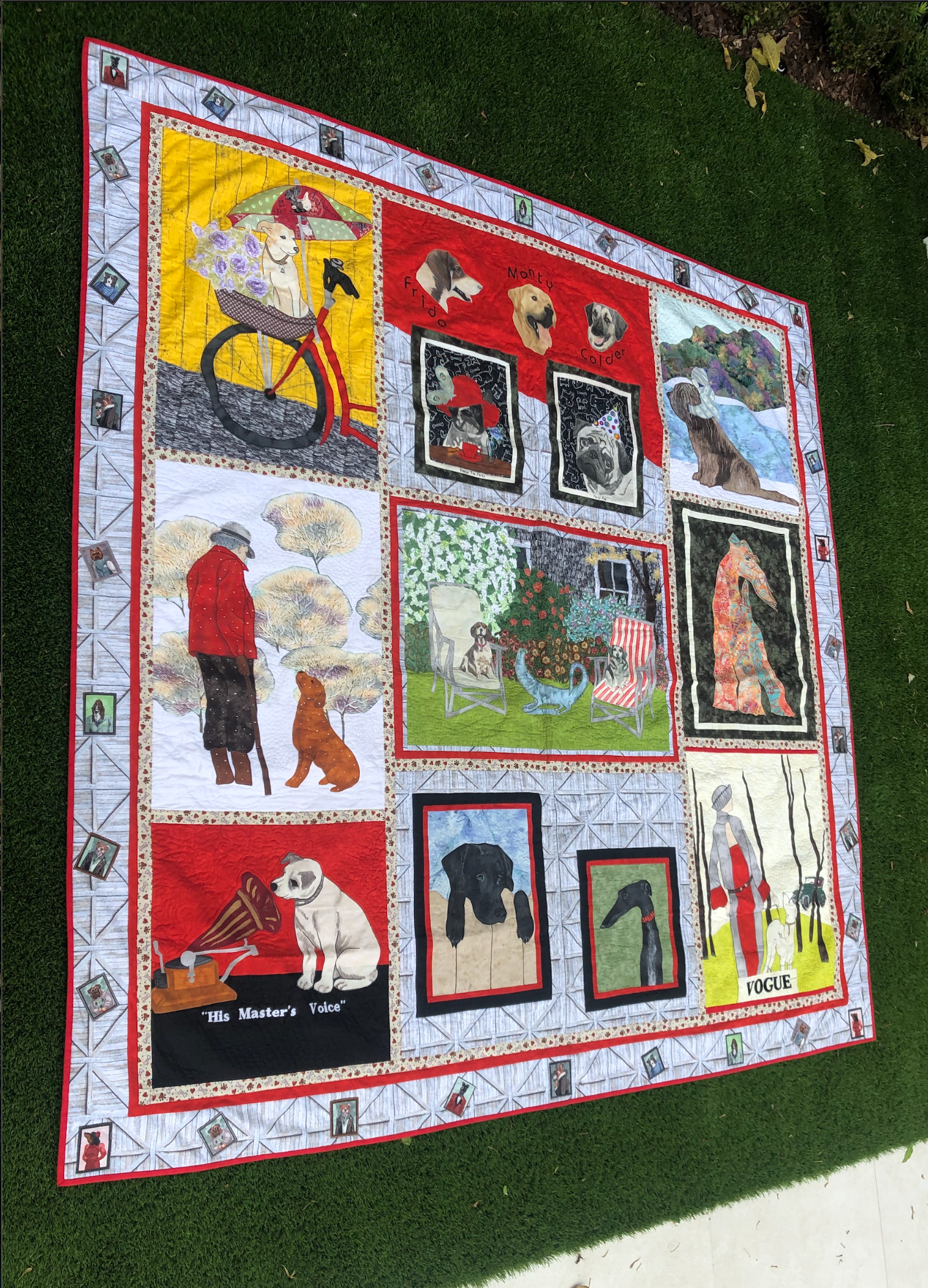 A Stitch in Time Saves Nine - When Art Imitates Life
 Art imitates Life - A Quilt Gift from Adele where she hand painted our Dogs Frida & Calder who were on the cover of the NY Post Newspaper article on our Beach Bungalow
Welcome to our online Store and Blog.
We hope you follow our brand and our blog and if you do you will know we like to give a behind the scenes look at all the people and places we come into contact with that inspire us and make us smile.
I guess there is something in zeitgeist. Between The New York Times article by Bob Morris featuring Faith Ringgold and I, it looks like we both decided to feature the story telling aspects of quilting, mine much more shallow and fun of course.
Dancing At The Louvre: Faith Reinggold's Quilt Series
 Faith Reinggold Sunflowers Quilting Bee on sale at 1st Dibbs
I only became interested in quilting when I was gifted one by renown South African landscape artist Lauren Peris (NJ) whose mother moved with her husband from South Africa to the Middle east and found herself quilting up a storm. Lauren was so taken by our love for our dogs she had her mother quilt the cover picture of The New York Post Article about our Beach Bungalow (see above and below photos).
Front Side: Dog Quilt Handmade by Lauren Peris' mom Adele 
The 'stitch in time' is simply the prompt sewing up of a small hole or tear in a piece of material, so saving the need for more stitching at a later date when the hole has become larger. Clearly the first users of this expression were referring to should you do one stitch in time it will save you having to do nine stitches at a later date.
At this point in our global cultural history with countries closing their borders and minds and the gaps growing between so many cultures in this great America we live in I thought I would dedicate this blog entry to one of the most American pastimes ..... QUILTING. Quilting is story telling at its best. Handmade coming from ones soul to show and be inspired by which leads to gifting.
Back of the Quilt
Hopefully people will reflect on this way of art and expression and resow the fabric of the soul of this country helping it heal and from patchwork to patchwork creating a new American paradigm where we are color blind and only see love.
Be it idyllic this is the 1st step to healing for artist to draw from their soul and put to canvas be it via graffiti, music, sounds of riots all expressing the heralding of change and painting a picture of where we came from to where we are going and ultimately where we want to be.
 Quilt border detail
My friend Susan MC Connell and Elizabeth Mancuso from our prior beach town of Red Bank New Jersey had introduced me to their mother Barbara Tate. Barbara had added me on Facebook (pre its republican jargon LOL) and by default I kept seeing all her quilts she kept posting. 
While being inspired to write this blog I rang Barbara up and she explained to me that she was invited to her 1st quilting class by her mother. As all younger generations who are invited to what seemed like an older persons art of expression she thought to herself how long could one class with her mom on making a table cover take. Barbara showed up with a Singer portable sewing machine value $35 and now says she has a machine that costs more than her 1st car.
Barbara Tate and Daughters Liz Mancuso & Susan McConnell and Barbara's quilts for The Children's Hospital, Foster Homes, Veteran's Hospital Lap Quilts
Barbara was quick to explain quilt terminology and standard by stating should there be in a mistake in the process the quilting Ladies and/ or Gentlemen say "This ain't going to Paducah, referring to the big national quilt show and competition in Kentucky.
Barbara is addicted to quilting it bothers her if she finds scraps around the house knowing the could make them into quilts benifiting The Childrens Hospital , Plantation General Hospital, Veterans Homes, Nursing Homes and Foster Care. 
She says quilts are perfect for children's hospital because the are perfect to shield the babies isolette incubators from the harsh lights above in the new born section therefore making all new borns identifiable by their parents.
Last year for Christmas 2019 she and her ladies group knitted stockings for the Broward County Partnership for the homeless where there happened to be over 50 families showing the disparity in Trumps Bull economy there is no systemic infrastructure giving people and society what it needs to excel and thrive.
 Barbara on her way to drop her new freshly quilted stash off to everyone and anyone who needs one
The history of quilts began long before European settlers arrived in the New World. People in nearly every part of the world had used padded fabrics for clothing, bedding, and even armor. With the arrival of the English and Dutch settlers in North America, quilting took on a new life and flourished.
The term "quilt" comes from the Latin
culcita
, meaning a stuffed sack.  The word has come to have 2 meanings. It is used as noun, meaning the 3-layer stitched bedcovering. It is also used as a verb, meaning the act of stitching through the 3 layers to hold them together. 
A quilt is a cloth sandwich, with a top, which is usually the decorated part, a back, and a filler in the middle. Under the general term of patchwork are of 3 different types of quilts: (1) the plain or whole cloth quilt, (2) applique quilts, and (3) pieced or patchwork quilts.
The quilt, as we know it in America, was originally a strictly utilitarian article, born of the necessity of providing warm covers for beds. Quilts were also used as hangings for doors and windows that were not sealed well enough to keep out the cold. The earliest American quilts, made by English and Dutch settlers, were so intimately connected to everyday life of the early colonists that no record of them exists.
Should you find yourself in the South Florida area and wanting to join a group, Barbara is a member of Quilting in the Pines.