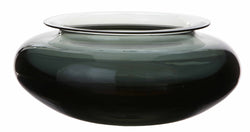 Fatrana Vase
A hand-crafted and blown Murano glass classical form shallow vase. Colored glass or gold-leaf create thick walls with generous layers of various colored glass or gold-leaf. This layering of glass gives the illusion of great depth in the vase.
Murano glass is glass made on the Venetian island of Murano, which has specialized in fancy glasswares for centuries. Murano's glassmakers led Europe for centuries, developing or refining many technologies including crystalline glass, enamelled glass (smalto), golden glass (goldstone), multicolored glass (millefiori), milk glass (lattimo), and imitation gemstones made of glass. 
Today, the artisans of Murano are still employing these centuries-old techniques and is home to a vast number of factories and a few individual artists' studios making all manner of glass objects.
Height 6 inches (15 cm)
Diameter 14 inches (36 cm)
Standard Color Options: Slate Blue & Amber, Slate Blue & Aquamarine, Clear with 24kt Gold-Leaf/Bubbles
Custom Colors Available